NEWS
One Direction Makes a HUGE Announcement! Find Out What It Is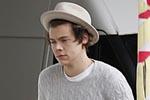 While we here in America were snoozing away, the guys of One Direction were over in the UK making a very big announcement. Zayn, Harry, Niall, Liam and Louis attended a press conference to announce the huge news—they're going on a massive arena tour in 2014!
Photos: 1D And Other Bands Created on TV
It's weird because the guys are currently on their "Take Me Home" tour, so clearly these guys are thinking ahead. But next year's concerts, the "Where We Are" tour, will be a bigger production, more exciting and feature tons of new 1D songs. Oh, and? Of course they're going to release an album later this year to go with it.
Article continues below advertisement
Watch: Perrie Edwards Pranks Her BF Zayn Malik!
So far, the guys have revealed that they'll be touring the UK, Asia and South America, but we have a feeling they're going to do some shows in the US too. Please come back to Madison Square Garden, guys! Watch this video for even more deets....
And now, we give you adorable new pics of Harry and Liam hanging out in London. They look hot but also like they need a nap.