NEWS
One Direction Reveals All on 'Today': Who's the Most Romantic? Who's Single? Find Out!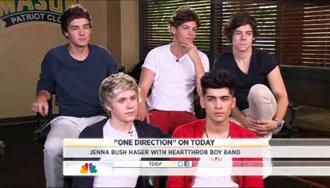 The adorable guys of One Direction sat down for an exclusive interview with the Today show's Jenna Bush Hager to share some scoop about their love lives, overnight success, summer tour and their new book, Dare to Dream.
Liam Payne, Louis Tomlinson, Harry Styles, Niall Horan and Zayn Malik were open with Jenna about their individual personalities and quirks and even revealed who's the most romantic guy in the group!
Article continues below advertisement
OK! GALLERY: ONE DIRECTION JETS OUT OF LONDON AND HEADS TO THE U.S.!
Who is it? Well there's two! Liam and Louis were voted most romantic and, coincidentally, they both have girlfriends, as does Zayn. And who loves the attention the most? No surprise here, it's Harry!
What do the guys really think about being considered a "boy band"? All the guys said they're "cool with it."
"That's what we are, we're a boy band," Louis said, adding, "We don't necessarily follow the stereotypes of the past boy bands... no dancing!"
Article continues below advertisement
"It's amazing for them really," Liam added of the fans and their ability to directly communicate with the band on Twitter and other social media outlets. "When I was a kid I couldn't imagine talking to anyone like Will Smith. Imagine, like, talking to Will Smith? It's really nice that we can have that kind of close contact with our fans."
Liam, Harry, Louis, Zayn and Niall feel that the reason they're so loved by people around the world is because they're relatable, down-to-earth guys.
"I think that's the whole point of us really is that we are ourselves and that's why people enjoy what we do — because we don't hide anything, really," Liam said. "We're a bit too honest, sometimes!"