NEWS
'One Tree Hill' Series Finale: Our Favorite Moments From the Last Episode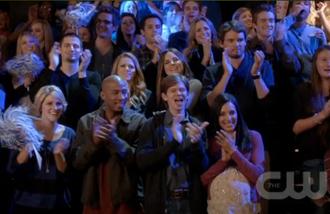 The day we've all been dreading has come... that sinking feeling in your stomach, knowing that One Tree Hill will never air on The CW Network ever again. So to celebrate all nine seasons of the show we've all come to love, OK! is sharing our favorite moments from the series finale episode, so if you haven't watched it yet, don't read this! (Trust us, you'll enjoy the good cry session).
First off, creator Mark Schwahn was right when he said that this episode was a tribute to the fans who've stuck by the show for years. Not only did it wrap up each storyline beautifully, but it still managed to leave us wanting more. (A new series based on the teenage life of Jamie Scott?)
Article continues below advertisement
OK! NEWS: ONE TREE HILL SERIES FINALE PREVIEW CLIP: BROOKE RECONNECTS WITH PEYTON
Here's our 15 favorite moments from the finale episode:
1. The opening shot of Nathan (James Lafferty) watching his 17-year-old self play basketball on the river court.
2. Brooke (Sophia Bush) returning to Peyton's (Hilarie Burton) old bedroom and running her hands across all the records. "I can tell you stories about nights spent in this room."
3. Haley (Bethany Joy Lenz) singing her heart out at Tric for the last time. (Remember when she was so nervous to sing "Let Me Fall" when Tric first opened 10 years ago?)
4.Clay (Robert Buckley) asking Logan (Pierce Gagnon) if he would like him to be his dad. "You're already my dad, Dad."
5. When Logan calls Quinn (Shantel VanSanten) "Mom." (Tears are streaming... )
6. Nathan giving Haley the bracelet from the Cracker Jack box. "Don't tell me you never gave me anything, because you gave me everything."
Article continues below advertisement
7. When Mouth (Lee Norris) announces the Edwards-Scott Sports Scholarship, which he started with the $500,000 Dan Scott (Paul Johansson) left him with the note, "What you do matters."
8. When Nathan and Haley kiss in the rain one last time... they just had to do it!
9. When Chase (Stephen Colletti) and Chris Keller (Tyler Hilton) spy on Red Bedroom Records' hot interns. (Come on, this comedic bromance moment added that extra punch to the finale).
MORE ON:
Bethany Joy Galeotti
10. The moment Quinn tells Clay she doesn't need a wedding and just wants "to be your wife, before we adopt our son." OMG STOP!
OK! NEWS: ONE TREE HILL RECAP: DAN SCOTT SAYS GOOBYE AND A CHARACTER FROM THE PAST RETURNS!
11. Haley reading her old predicitons and then telling Jamie (Jackson Brundage) about the yearly tradition she shared with Lucas (Chad Michael Murray). Then Jamie writes his first prediciton: "I will beat Dad's scoring title." We sighed with delight.
Article continues below advertisement
12. When Gavin DeGraw makes a guest appearance and sings "I Don't Wanna Be" at Tric while the entire cast sings along in the audience.
13. Julian (Austin Nichols) telling Brooke he bought her childhood home: "Welcome Home, Brooke Davis."
14. When we flash-forward and realize that Millie (Lisa Goldstein) is pregnant with baby Mouth and Skills (Antwon Tanner) is dating Bevin (Bevin Prince)... again. Priceless!
15. The freeze-frame on Jamie (from behind) running out onto the basketball court as a teenager wearing his Tree Hill Ravens' jersey. Full-circle moment right there!
So, One Tree Hill may be over, but it will never be forgotten! The finale truly represented everything the show was about and gave us hope for the futures of Jamie, Brooke, Haley, Nathan, Clay, Quinn, Mouth, Millie, Skills and yes, even our old friend Bevin.
What did you think of last night's episode? Share your favorite OTH memories with us!