NEWS
The Ones to Watch on the New 'Biggest Loser: Couples'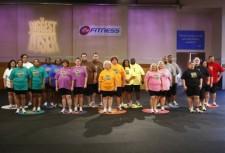 From identical twins to football star cousins, the theme for the new season of NBC's hit reality show The Biggest Loser is couples. As these loved ones struggle to slim down, the competition will get tougher than ever. And we'll meet the show's heaviest contestants yet (beating season eight's Shay Sorrells, whose total starting weight was 476 pounds). "At this weight, you have to treat contenders with more care and attention," explains trainer Bob Harper.
Article continues below advertisement
Ready To Work It — John and James Crutchfield: Two of the heaviest competitors to date, these Orlando-born twins tip the scales collectively at almost a ton, but the identical sibs tell OK! they are ready for a "lifestyle change."
Devoted Duo — Melissa and Lance Morgan: The Texans are committed to fixing their relationship while dropping weight. The 365-pound rancher and his 233-pound attorney wife tell OK! about their TBL competition: "It's the parent-and-child teams... you sacrifice everything for your kids."
Former Sports Stars — Koli Palu and Sam Poueu: These cousins (and former football stars) weigh in at 372 pounds and 403 pounds, respectively. The close kin admit their problem was that "after football, we kept eating like we were playing."
BE SURE TO TUNE IN TONIGHT FOR THE SEASON PREMIERE OF THE BIGGEST LOSER: COUPLES — AND CHECK BACK TOMORROW TO READ OK!'S EXCLUSIVE BLOG FROM FORMER CHAMP ALI VINCENT!