NEWS
Oprah: Here Until 2011!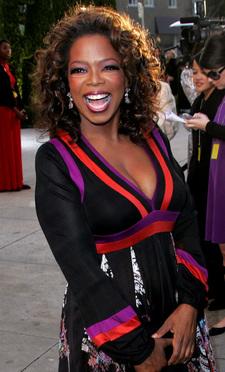 Keep your remotes tuned in to Oprah Winfrey – the daytime diva says she isn't going anywhere soon, despite rumors that she'll be leaving her show to host another show on her own network.
"I'm a girl that keeps her word. I have a contract till 2011, so right now that's what I have until someone writes me another one," she tells Extra. "I'm going to fulfill my contractual obligations and fulfill them happily."
Article continues below advertisement
Speaking of being happy, Oprah couldn't help but spread her post-election joy with her when she went to South Africa shortly after Barack Obama was elected, saying she used magazines with his face on the cover to call attention to herself.
"I just use them to fan myself as I'm going though the airport just in case somebody doesn't know I'm American," she confesses. "Just in case somebody wants to say, 'How's it going in America?' I know, I'm ridiculous."
Check out the rest of Extra's interview with Oprah tonight!