NEWS
Oprah Launches Annual Holiday Give-O-Way on Oprah.com/12days!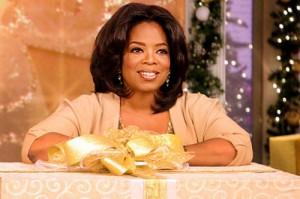 Get ready for another fabulous Give-O-Way from from the one-and-only Oprah Winfrey. America's most generous talk show host — valued around $2.7 billion — has announced another fabulous contest via her Web site and you don't have to be a member of her studio audience to win — just a reader of O magazine!
Oprah has launcher her annual 12 Day holiday Give-O-Way contest, and the prizes are pretty spectacular.
Article continues below advertisement
Contestants are eligible to win items listed in O magazine's 2010 holiday gift guide and some of the items were included on the coveted "favorite things" list.
Twelve lucky winners will be selected in an online lottery so be sure to buy your O magazine and enter the offer code HERE!
The O holiday goodies list features a wide array of fabulous prizes from pajamas to popcorn and 2010 "favorite things" items like lingerie, cookware and the iPad!