NEWS
Oprah is a Twitter Maniac!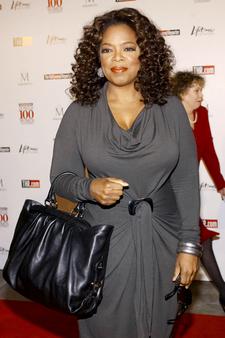 If there's something to be done, you can bet Oprah Winfrey will be all over it once she sets her mind to the task at hand. Now that the daytime diva has signed up for Twitter, at around 9 a.m. ET today, she's already going full-steam ahead with six updates!
She started off a little unsure it seems, in all caps (the equivalent of shouting), with: "HI TWITTERS . THANK YOU FOR A WARM WELCOME. FEELING REALLY 21st CENTURY . "
Article continues below advertisement
She then moved on to the issue of her lunch, tweeting, "hi jimmy order a reuben for me," before addressing the health of her dog Sadie, writing, "hi everyone. sadie's great. gets her rabies vaccine today."
Oprah's such a savvy Twitterer, she's already figured out how to reply to people like Demi Moore, saying "@mrskutcher count me in for 20,thousand nets," referring to Ashton Kutcher's promise to donate 10,000 for World Malaria day when he beat CNN to 1 million followers on Twitter.
Since there's no such thing as too much of a good thing, we can't wait to see Oprah's Twitter career really take off. Watch out, Ashton!