NEWS
Oprah Winfrey To Announce New Primetime Show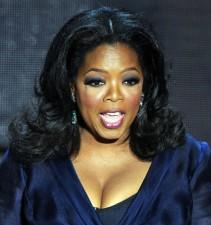 Oprah Winfrey is gearing up to announce her future, post daytime talk show host plans! Later today, the icon will reveal that she will host an evening show on her new cable network (The Oprah Winfrey Network) named Oprah's Next Chapter, an hour-long show, with a tentative start date of late next year!
The new show will feature Oprah out of her normal studio setting, according to The Wall Street Journal, and could air as many as two or three times a week.
Article continues below advertisement
Viewers will follow Oprah around the globe for conversations in places such as Egypt and China, according to the WSJ.
"I'm going to take viewers with me, going to take celebrities I want to interview with me" around the world, Oprah said.
The larger task will be taking advertisers and viewers along to the new Oprah Winfrey Network, OWN, the WSJ reports.
OK! NEWS: RIELLE HUNTER WILL OPEN UP TO OPRAH ON JOHN EDWARDS AFFAIR
The Oprah Winfrey Show had a vast, loyal audience geared toward the female demographic.
Her new show will be pitted against heavy hitters like NBC's The Biggest Loser, CBS's Undercover Boss, or FOX's American Idol.
Oprah will be making her exit from the daytime talk show, The Oprah Winfrey Show, on Sept. 9, 2011 after 25 years on TV.
Article continues below advertisement
"I love this show. This show has been my life. And I love it enough to know when it's time to say goodbye," a tearful Oprah announced to her live studio audience in November.
OK! NEWS: OPRAH OPENS UP ABOUT GOING OFF THE AIR
"Twenty-five years feels right in my bones and it feels right in my spirit. It's the perfect number — the exact right time. So I hope that you will take this 18-month ride with me right through to the final show."
Can't wait to catch her primetime debut!