NEWS
Oprah's Dog on the Mend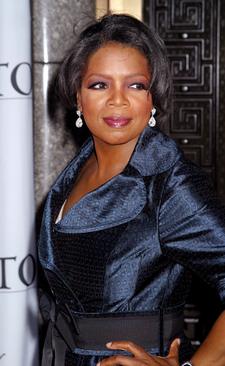 Oprah Winfrey's newest canine addition, Sadie, is still doing ok, Winfrey assured the audience on her show on Friday.
Winfrey adopted the cocker spaniel puppy two weeks ago. Sadie's litter mate, Ivan, whom Winfrey also adopted, died within a week from the Parvo virus. But today on her show, the talk show queen said that Sadie was "hanging in there."
"I went through it all," Winfrey said, describing the symptoms of Parvo. "You can't get it. If you could get it, I would have it."
Article continues below advertisement
Sadie appeared via a videoconference with veterinarian Dr. Alexis Newman of the Arboretum Animal Hospital in Downers Grove, Ill. Newman said Sadie was about 80 percent recovered after being close to death on Sunday and Monday.
Sadie has stopped vomiting and is now eating warm chicken meat and should be home in a few days, Newman said. Winfrey explained that Sadie is being kept in isolation and even her toys will have to be burned.
Newman said that the Parvo virus is everywhere and that the dogs may have been exposed in the ground in Chicago after the snow melted. She theorized that Ivan, who got sick first, contracted the virus first. She said that Sadie had lost half a pound throughout the ordeal.
"We had some … nights where we thought she might not make it," Winfrey said.
Winfrey showed pictures of her introduction of Sadie to her audience two weeks ago. During that show she brought out three of Sadie's brothers who were still awaiting adoption at the PAWS shelter.
"That's she and Ivan kind of kissing, shouldn't have done that," Winfrey said of the day she had the puppies on set.
Shortly after the show Winfrey flew her dogs to California. "Ivan had really one great day playing with the big dogs and playing with Sadie and then he got sick," Winfrey said. Ivan died March 19, she said. She added that her other dogs were "fine" because they had been vaccinated.