NEWS
Oprah's Favorite Things Round 2: New Car & iPad Top List!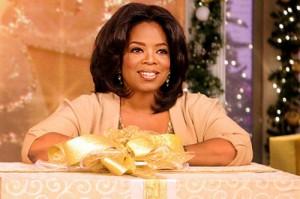 What can top a week-long Caribbean cruise? How about a brand new car! Oprah Winfrey dropped the mother-load of all gifts this afternoon in the culmination of her two-episode long Favorite Things extravaganza. She shocked the audience with the brand new 2010 VW Beetle, an iPad and a Coach bag among other fabulous gifts.
"Since this is the farewell season and the very last time I will ever do a 'Favorite Things' show, I decided lets do two shows with two audiences!" Oprah had announced about her first time ever two-part Favorite Things bonanza. The Oprah Winfrey Show is in its 25th and final season.
Article continues below advertisement
OK! NEWS: DIAMONDS & FLAT SCREENS ARE A FEW OF OPRAH'S 2010 FAVORITE THINGS
The beloved talk show host was pumped about the Volkswagen her studio audience will receive next year.
"This is one powerful, sophisticated, sexy Beetle," she said.
As far as the iPad, she decreed it is her favorite invention of the century.
"Words cannot describe what I feel for this magnificent device," Oprah said. "I really think it's the best invention of the century so far."
Catch the complete list of the Part 2 gifts below!
iPad, starting at $499
Scrabble for iPad, $4.99
Ugg Boots, $175
Coach Sofia satchel, $398
Megaschoni embellished tunic and leggings, $298 and leggings, $260
Hope in a jar by Philosophy -- 2 ounces $38; 4 ounces $60; 8 ounces $105
Nordstrom lingerie, $500 + another $500 for a guest
Herb savor by Prepara, $29.95
Centerville Pie Company's Chicken Pie, $20
Article continues below advertisement
Garrett's Special-Limited Favorite Things Tin, $135
Le Creuset Cookware, $599
Miraclebody jeans by Miraclesuit, $110
Sophie Jewelry Box from Potter Barn, $179
Jessica Leigh Diamond Earrings by Dana Rebecca Designs, $1,900
DonorsChoose.org Gift Card, Bing, $100
Williams Sonoma Mini-croissants, $39.95
Talbott Teas, holiday assortment, $150
The Book of Awakening by Mark Nepo, $18.95
Illuminations by Josh Groban, $12.99
Let It Be Me by Johnny Mathis, $12
Volkswagen Beetle, 2012 (available in May, 2011)