NEWS
Owen & Woody's Brewing Bromance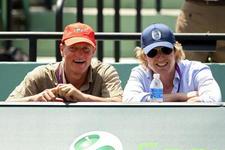 Matt Damon and Ben Affleck better watch out! There's a new bromance in town and it comes in the form of Owen Wilson and Woody Harrelson.
The bosom buddies have been heating up the streets of Miami as of late, where the Wilson brother has been stationed filming his new comedy Marley & Me, and Woody has definitely tagged along for the ride.
Last week, the pair took in multiple matches at the Sony Ericsson Open, where they witnessed Serena Williams claim her fifth title at the tournament and followed that up with a night out at La Marea in the Tides Hotel in South Beach. There, the two partied hard until after midnight with Owen's co-star and rumored fling Jennifer Aniston.
Article continues below advertisement
Despite the presence of a gorgeous Friend, it was clear where the 39-year-old actor's affections lie.
"Jen and Owen were deep in conversation at one point," an eyewitness tells OK!. "But when they left, Jen hopped in her Escalade with her driver and two bodyguards,
and Owen and Woody drove off together in a Prius."
Best friends forever indeed!