NEWS
Pals of 'Real Housewives of New Jersey' Wakiles Defend Them: "There Were No Issues" at Photoshoot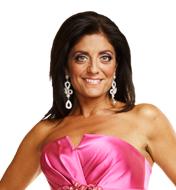 Looks like some Jersey attitude has gotten Real Housewives of New Jersey castmmates in bit of trouble. The rather controversy-free Richard and Kathy Wakile have recently found themselves in quite the feud with Franklin Lakes men's boutique, Something Sophisticated.
OK! got the exclusive inside story from the couple's personal assistant Leslie Mota and long time family friend Heather Robinson. Heather claims to have reached out to Richard and Kathy to do a photo shoot for the store, because she once had a close relationship with owners, Ed Bergan and Bijan Zamanian. Well, things did not go so smoothly during the father-son shoot, featuring Richard and his son Joseph, reports Radar Online today.
Article continues below advertisement
OK! VIDEO: REAL HOUSEWIVES OF NEW JERSEY PREMIERE — WATCH TERESA GIUDICE & HER FAMILY BRAWL
"Richard and his son both were fine. They were happy, there was no issues what-so-ever," Heather told OK!. Both Heather and Leslie are determined to clear the name of Kathy and Richard, despite the negative accusations currently being made.
"Richard never once asked for anything in return. If anything I was the one who brought it to attention as to why nothing was given. I don't think it was appropriate," Heather said. The whole shoot gone bad really got sour when Leslie and the owners of the store continued this feud through multiple emails.
"First and foremost I created the email, I take full responsibility," Leslie explains to OK!. The family's assistant shared that when the idea came into play Kathy and Richard were immediately in because of Heather's high recommendation, and their endless willingness to help local businesses.
OK! NEWS: MEET THE NEW EXPLOSIVE WIVES OF THE REAL HOUSEWIVES OF NEW JERSEY
"I felt that they were not prepared for Richard or his son Joseph. They did not have the appropriate sizes for them, but we said no problem," Leslie says.
Article continues below advertisement
There also seemed to have been some awkward behavior and intensity between the N.J. stars and the owners.
"The owner of the store was like don't touch this, don't touch that. Watch it with this, watch it with that," Leslie remembers. She, like Heather, strongly stands by the fact that Richard nor his son asked for anything, or expected anything at the end of the shoot.
"The whole situation does not sit well with me. They were not treated or spoken well to; if the shirt didn't fit, why not let him take something else from your store? " Leslie explains.
OK! VIDEO: WATCH REAL HOUSEWIVES OF NEW JERSEY DRAMA IGNITE IN TEASER CLIPS
Supposedly Richard left with the shirts that were given because they were a gift despite the size issue. Although Kathy and Richard have kept their clean image while on the reality series, Leslie believes this has become a press hungry story for the boutique, using Richard and Kathy to get in the spotlight.
"To take Richard and Kathy's character and throw it over, someone clearly wants their 15 minutes of fame," Leslie says.
Article continues below advertisement
Due to the email war between both parties, the pictures have been taken off the store's website and the owners are now requesting the shirts to be returned. The Wakile's assistant believes that Kathy and Richard are real people, full of respect and integrity, enforcing that they are exactly who we see on the drama-filled show.
OK! NEWS: THE REAL HOUSEWIVES OF NEW JERSEY REVEAL TWO NEW CASTMEMBERS
"They have all the right to be upset this is their name. This is their life, this is their family, and what is out there is not them, Leslie said." Shirts or no shirts, what is the big hoopla? We love the show, but we have to admit that this messy story has really put the twist on the ones we thought were wholesome and non controversial. We love the NJ housewives, and this is exactly why. One word. Drama.