NEWS
Pam "Kidding" About Jessica Comments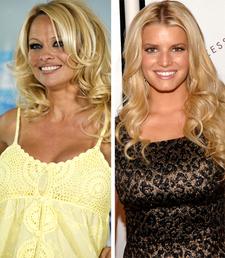 Don't worry, Jessica Simpson. Pamela Anderson doesn't really think you're a "bitch" or a "whore."
The erstwhile Baywatch babe has cleared up her stinging zingers at Jess, telling Australia's Kyle and Jackie O Show that she was merely "kidding" when she publicly called the singer those names.
Jess caused some ruckus among the vegetarian community when she sported a "Real Girls Eat Meat" shirt recently -- understood as a dig at beau Tony Romo's ex Carrie Underwood -- and Pam, a vocal vegetarian and spokesperson for PETA, took her to task for it.
Article continues below advertisement
"I think she is a bitch and whore," Pam said last week. "Actually, I don't know if she was talking about food or men."
But it seems as though 41-year-old Pam is now certain that the shirt doesn't refer to "actual cows and chickens, but was referring to, you know, men."
While the actress has cleared the air on her comments, she won't be publicly issuing Jessica, who turned 28 yesterday, an apology of any sort.
"I think people know my sense of humor too," Pam says.