NEWS
Pamela Anderson Sad to Leave 'DWTS'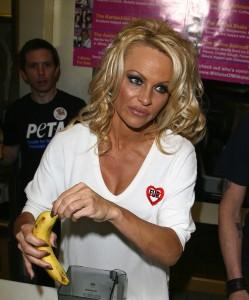 Although Pamela Anderson seemed to be a fan favorite on Dancing with the Stars this season, her partner Damian Whitewood reveals that the blonde bombshell is a bit bummed to be back at home.
"Of course," Damian responded to OK! when asked if Pam was upset to have left the show, "But it has really hit home now that we are relaxing at home. I'm sure come Monday it will be a quiet night."
Article continues below advertisement
Despite a sad face, Damian reveals that now they are both focusing on the finale, when Pam will be able to strut her stuff on stage yet again.
"We are planning on rehearsing for the finale week… I am sad to be gone, yes, but I am still worried about what I have to do with Pam."
TOMMY LEE SHOWS PAM ANDERSON SOME 'DWTS' LOVE
And regardless of being voted off the show, Damian gushed to OK! that Pam, "did fantastic for someone who has never danced before and she was able to bring her character and actor side to the dances, which not many people have done before."