NEWS
'Dark Knight Rises' Paris Premiere Canceled in Wake of Colorado Shooting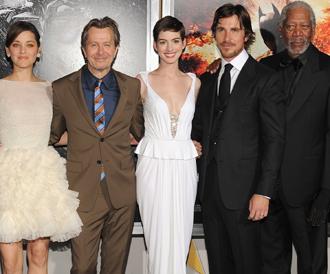 In response to the grisly Aurora, Colo., theater shooting that (as of publication time) left 12 dead and 38 injured early this morning, the Paris premiere of The Dark Knight Rises has been canceled.
OK! NEWS: TRAGEDY STRIKES THE DARK KNIGHT RISES ON OPENING NIGHT
The cast was set to walk the red carpet and fulfill a plethora of press duties, but Warner Bros. made the executive decision to pull out of all movie-related appearances out of respect to the victims and their families.
Article continues below advertisement
Journalists camped out at the Paris hotel Le Bristol readying for a press conference with Christian Bale, Anne Hathaway and Morgan Freeman were told to go home, and workers were spotted dismantling Batman-related decorations from a big theater near the Champs-Elysees.
OK! VIDEOS: NEW DARK KNIGHT RISES TRAILER FEATURES JOSEPH GORDON LEVITT AND ANNE HATHAWAY
That being said, Dark Knight Rises has reportedly scored an impressive $28 million opening night take at the box office, which has already lapped The Avengers.
The alleged shooter has been identified as 24-year-old James Holmes, who is currently in police custody. The FBI does not currently believe the shooting is linked to any terror group or organization.