NEWS
Paris Hilton Calls Anthony Weiner's Infamous Boxer Briefs Twitter Photo "Not Huge"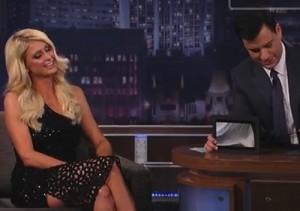 Jimmy Kimmel always finds himself a bit confused when it come to Paris Hilton's lingo. The heiress uses the words "hot" and "huge" as adjectives quite frequently, and Jimmy doesn't always understand the difference. Last night, though, Paris made it very clear when she was talking about Rep. Anthony Weiner's infamous underwear Twitpic.
Paris and Jimmy played a game, in which the heiress had to label images "hot" or "huge."
Article continues below advertisement