NEWS
Watch Jimmy Fallon Spoof Anthony Weiner by Apologizing to His Huge Staff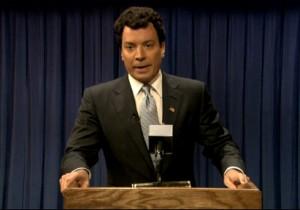 Jimmy Fallon took on Anthony Weiner's press conference on Late Night With Jimmy Fallon and filled it with sexual innuendos — about his staff.
OK! VIDEO: ANTHONY WEINER TWITTER SCANDAL GETS THE STEPHEN COLBERT TREATMENT
"Good afternoon, I'm Anthony Weiner," Jimmy announced on Late Night With Jimmy Fallon. "First off, I want to make it clear that I've made some terrible mistakes, that I've hurt those who I care about most. So, I'd like to take this time to apologize to my family, my constituents and most importantly, my staff."
Article continues below advertisement
Cue the sexual jokes!
"As you know, I have a huge staff. It's one of the biggest in all of New York," Jimmy (Anthony) continued. "It's hard to handle a staff that big, but I do it every day. I love my staff."
"Now, obviously the events of the past week have put a huge strain on my staff," he added. "If I've rubbed my staff the wrong way, I'm sorry. For the past couple days I've been jerking my staff around and as a result, I've got a huge mess in my hands."