NEWS
Pat Sajak Hosted 'Wheel of Fortune' Drunk With Vanna White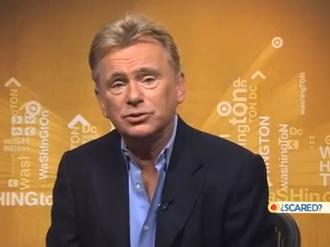 Back in the day, hosting Wheel of Fortune was a less-stressful job for Pat Sajak. That was partially due to the more relaxed style of the show and the fact that Pat admits he was drunk on the air!
OK! NEWS: WATCH WHEEL OF FORTUNE CONTESTANT GUESS PUZZLE WITH ONLY ONE LETTER
Pat was asked on Dan Le Batard is Highly Questionable if, during his 30 years on the show, he ever hosted Wheel of Fortune while drunk.
Article continues below advertisement
Sajak talked about how he and Vanna White would head over to a nearby Mexican restaurant and throw back a few margaritas.
"Yes," Pat admitted with a laugh (via The Hollywood Reporter). "When I first started and was much younger and could tolerate those things, we had a different show then. You didn't win money. You won fake money with which you could buy cheesy prizes...but because we had all those prizes we had endless time between shows."
OK! NEWS: JOAN RIVERS CALLS CHELSEA HANDLER A DRUNK & CLAIMS SHE SLEPT HER WAY TO THE TOP
So, naturally, Pat and Vanna would head over to a nearby restaurant to enjoy a liquid meal.
"Vanna and I would go across and have two or three or six, and then come and do the last shows and have trouble recognizing the alphabet," he joked. "They're really good tapes to get a hold of."
"I had a great time," Pat admitted. "I have no idea if the shows were any good, but no one said anything, so I guess I did OK."