NEWS
Penélope Cruz Gives Lip Service to Acting Inspiration Meryl Streep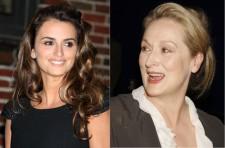 To be in the presence of the extremely talented actress Meryl Streep would make anyone a little tongue tied. Penélope Cruz knows that feeling, but even though her tongue is tied, her lips are on the attack!
Penélope confessed to Interview magazine that the only thing she can think to do when she sees Meryl on the red carpet is kiss her!
As an actress Penélope said Anna Magnani and Debra Winger inspire her, but there is "nobody better better than Meryl Streep."
Article continues below advertisement
"I watch her movies over and over again — I saw Silkwood again a couple of weeks ago, and it made me just want to kiss her feet," explains the Spanish stunner.
Penelope isn't close friends with Meryl in person, but adores her on the big screen.
"We only know each other from seeing each other at awards ceremonies or those kinds of events, but whenever I see her, I always go up to her and start kissing her," she said. "I don't even say anything — I just kiss her."
"She must think I'm some crazy person," Penélope jokes.
Crazy or crazy in love!