NEWS
Perez & John Mayer All A-Twitter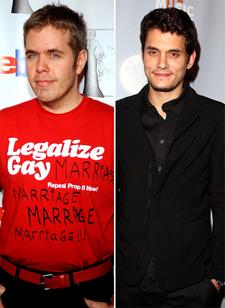 After Perez Hilton got into a war of words and fists with will.i.am and his manager, resulting in the blogger's face being bloodied, many celebrities have been weighing in on whether or not Perez deserved to be hit for using antigay slurs in his tirade.
And being the ever the media savvy communicator with an opinion, John Mayer replied on Twitter to the controversy, which sparked a somewhat humorous exchange between the musician and the blogger.
Article continues below advertisement
johncmayer: @perezhilton's video statement is so long that by the end of it his cut healed.
PerezHilton: @johncmayerThat's real funny! Ha ha! And I'm sure you also think I "deserved" to get hit!
johncmayer: Not true. In fact I'd like to train you in Krav Maga. Then you'll have the situational awareness not to get in someone's face.
PerezHilton: Dude, I get it. I GET IT. But it's not f---ing funny to me. Karma would be me losing my site and going bankrupt or what have u.
It goes back and forth a bit, but then John offers these gems at the end, even inventing a trending topic to "support" Perez, "perezisokbyme":
johncmayer: from the heart, what you experienced these last 24 hrs is a profound lack of control. You can't blog the world, my friend.
johncmayer: because today, the fourth wall came crashing down. Mario, you are human. I call upon Twitter to be kind to you. #perezisokbyme
johncmayer: Good night Perez, you dumb s--t. #perezisokbyme
How sweet!