NEWS
Peyton Manning Takes Tiger Woods No. 1 Spot on "Power 100" List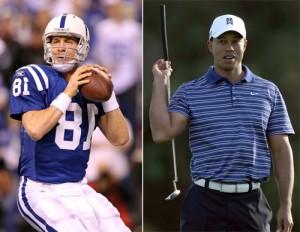 Article continues below advertisement
Guess all those Oreo Double Stuffed Racing League commercials/endorsement really helped catapult Peyton to the top!
According to the ranking, Peyton has both the on-field performance and off-field marketing needed to make him the most well-rounded athlete in the United States.
On last year's list, Peyton trailed behind Tiger and LeBron James. But this year, both Tiger and LeBron have taken a hit in the popularity sector — Tiger's very public scandal and LeBron's arrogance combined with his departure from the Cleveland Cavaliers.
Rounding out the top three? Snowboarder Shaun White at No. 2 and Tiger at No. 3.
OK! NEWS: THE SITUATION SHOOTING SUPER BOWL AD WITH PEYTON MANNING
Top 20 footballers include: Patriots quarterback Tom Brady at No. 5, Saints quarterback Drew Brees at No. 7 and Giants quarterback/Peyton's brother Eli Manning at No. 17.
Catch Peyton and Eli in DSRL commercial!