NEWS
Phaedra Parks Remembers Whitney Houston And How The Late Singer Was Instrumental In Her Career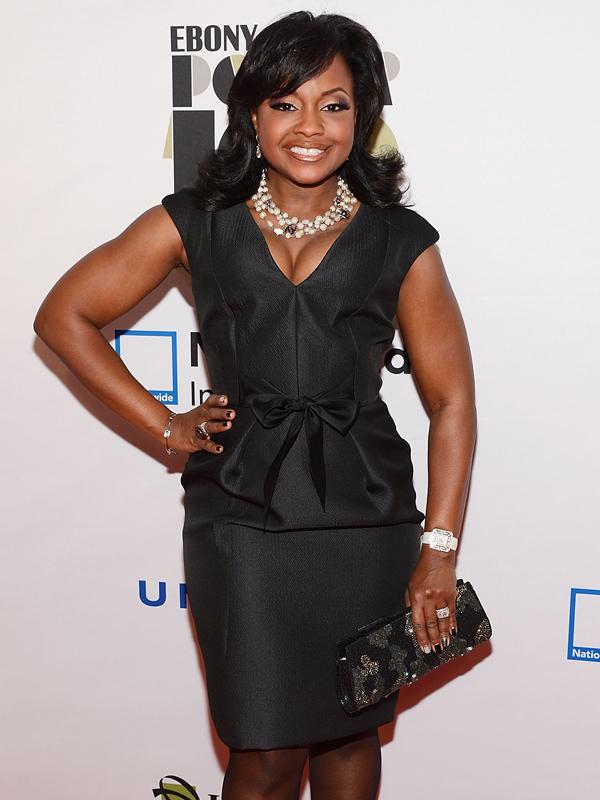 It's the one-year anniversary since the world was shocked and saddened by the death of music superstar Whitney Houston.
And with the entertainment industry being as small as it is, Real Housewives of Atlanta star Phaedra Parks credits the I Will Always Love You songstress in putting her on the map in the entertainment industry when she was a young up-and-coming attorney.
Phaedra opens up to OK! about meeting Whitney for the first time, working with Bobby Brown and what she learned from the singer.
Article continues below advertisement
OK!: It's coming up to a year since the death of Whitney Houston—have you been in contact with the family?
"Actually I just spoke to Pat—her sister-in-law. They contact me often, they recently had their show on Lifetime and so the same young ladies that produced that show produced the Being Bobby Brown show that I was on years ago when I worked with them very closely," Phaedra told us during a recent sit down interview at the Four Seasons Hotel in Los Angeles.
"I always loved Whitney, I'll always credit her and Bobby for a very important part of my career and for my notoriety. Because a lot of the time when people hear Phaedra Parks, the first thing they say is Bobby and Whitney, that's the Bobby and Whitney attorney.
"Whitney trusted me at a time that a lot of people would not have trusted a young, Black attorney, to handle such a big case.
"I remember vividly the day she first called me. It was a Sunday I was having some collard greens, mac and cheese and turkey and gravy. And I remember answering that phone, and her voice, because you know she had that raspy voice.
Article continues below advertisement
"'Hey um can I speak to Phaedra? This is Whitney Houston.' I said, 'Huh, hold on.'
"It was Sunday, 4pm, Whitney Houston calling me on my cell phone? I had to remain calm. I grew up idolizing her. I remember She Gives Good Love, I remember singing that and wrapping a blanket around me and standing in the mirror and dancing around. For brown girls, she was a goddess.
"So I picked back up the phone and I was like, 'How can I help you?' And she said, 'I heard you're the best attorney in town, my husband needs a lawyer, can I meet with you.' And I was just startled but said, 'Sure'.
"She said to meet her at the Ritz Carlton. I met her and we spoke for probably 3 or 4 hours and later I would meet Bobby, she hired me and 7 years later… I worked with them throughout the divorce and everything.
"We didn't always see eye to eye on things but she was very good to me. Her family has been very good to me. His family has been very good to me. I consider them very good friends and I've seen them at their best and I've seen them at their worst but I just love her, I love Bobbi Kiristina.
"What Whitney taught me being in such close quarters with her for all those years, traveling on the road with them… I saw what the press can do… I saw what the media does and I saw the impact on her life. Personally, I saw the vulnerability of a superstar. I will never probably work with someone like that again."
How will you remember Whitney best? Let us know below or tweet us @OKMagazine! And be sure to follow @PhaedraParks.