NEWS
Phil Collins Is Quitting Music & Doesn't Think He'll Be Missed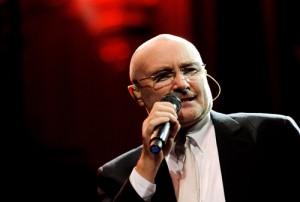 Article continues below advertisement
"I think of it like Air Miles — it's all part of the job. I'm not worried about not being able to play the drums again, I'm more worried about being able to cut a loaf of bread safely or building things for my kids," he explained. "My doctors tell me it's a work in progress, that it'll take about a year for me to recover. They're not strong enough to play the drums. I don't think I'll ever be able to do that again."
So he's ready to be done performing.
"I look at the MTV Music Awards and I think, 'I can't be in the same business as this.' I don't really belong to that world and I don't think anyone's going to miss me," he explained. "I'm much happier just to write myself out of the script entirely."
"I'll go on a mysterious biking holiday... And never return. That would be a great way to end the story, wouldn't it?"
OK! NEWS: CHARLIE SHEEN'S PUBLICIST QUITS — "I'M UNABLE TO WORK EFFECTIVELY"
So is he officially an "ex-rock star" now?
"It feels like a good time to stop for a while. David Letterman wanted me to go on his show on a Monday night recently but I said, "No. Can't do it. I have the kids on a Monday." And my label said, 'But this is Letterman!' And I was like, 'Guess what? I. Don't. Give. A. F***!' "
Phil's full interview with FHM Magazine is on sale now.