NEWS
The PhilmGuy's DVD Review: 'The Adjustment Bureau'; 'Cedar Rapids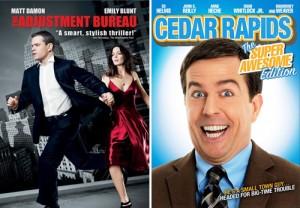 The Adjustment Bureau – Matt Damon takes on a role that blends his Jason Bourne and Will Hunting qualities, playing a politician who tangles with a tapestry of fedora-wearing, supernatural-powered watchmen who do their best to keep him apart from the woman he loves, a dancer played by Emily Blunt. An adaptation of a story by sci-fi legend Philip K. Dick, the drama plays like a finely tuned Twilight Zone episode, with excellent, thought-provoking writing and fever-pitched performances. The Blu-ray/DVD/digital copy combo includes insightful making-of featurettes, filmmaker commentary and a look at Blunt's dance training for the film.
Article continues below advertisement
Ceremony – Uma Thurman, who has been reduced to queen of the C-level romantic comedy circuit, plays a bride-to-be who becomes the fulcrum of a love triangle involving her younger ex, who wants to break up the nuptials. The movie turns out to be little more than a vehicle for Thurman to drive while sleep-walking, but those with a high tolerance for schmaltz may have a decent time. Deleted scenes and making-of featurettes fill out the thin package.
THE PHILMGUY'S DVD REVIEW: HALL PASS; RED RIDING HOOD
Diary of a Wimpy Kid: Rodrick Rules – The Nickelodeon-style kid lit adaptation continues to form itself as a bona fide movie franchise, channeling the insecurities, longings and joyful innocence of middle school in the second film. The Rodrick (Devon Bostick) of the title is the older brother who torments the scrawny hero, Greg (Zachary Gordon) as he tries to climb his way up the school social ladder. The Blu-ray/DVD/digital copy combo includes deleted scenes, commentary, a gag reel and an alternate ending.
Article continues below advertisement
The Eagle – Channing Tatum, who has verged on stardom for years without ever quite being able to make the leap, continues to drift in pseudo-obscurity in this Ancient Rome period piece about a soldier's voyage of redemption, which has whispers of Shakespeare but is really more in line with silly History channel re-enactments. The Blu-ray/DVD/digital copy combo boasts deleted scenes, an alternate ending and director commentary.
THE PHILMGUY'S DVD REVIEW: JUST GO WITH IT; TRUE GRIT
Elektra Luxx – Carla Gugino goes slumming in this campy exploitation flick, playing a porn star trying to transition to a more legitimate career as a junior college teacher. Joseph Gordon Levitt, Timothy Olyphant and Emmanuelle Chriqui provide the film with more star power than it deserves, helping the lame outing to achieve a semblance of watchability. The DVD includes deleted scenes.
Article continues below advertisement
Happythankyoumoreplease – A spiritual cousin to Garden State, How I Met Your Mother's Josh Radnor directs and stars in a tale of an aimless, unhappy freelance writer who cares for a lost child while juggling career and relationship opportunities that could take his life in a number of different directions. Malin Akerman steals all her scenes as Radnor's pal, a doggedly optimistic sufferer of an autoimmune disorder, and Kate Mara plays a cabaret singer who catches his eye. Excellent writing, as well as haunting music by Jaymay — who stars in a featurette — carries the day. Deleted scenes and filmmaker commentary are also included.
THE PHILMGUY'S DVD REVIEW: BIUTIFUL; TRUE BLOOD SEASON 3
Kiss Me Deadly Blu-ray – This heavenly 1955 slice of film noir features a young Cloris Leachman as a femme fatale who creates trouble for private eye Mike Hammer (Robert Aldrich), who unravels a tangled web laden with thugs, double-crosses and eyebrow-raising twists. The in-depth Criterion Blu-ray delivers the expected bundle of high-class, historically reverent extras, such as a booklet that examines the impact of the movie, as well as the controversy it ignited more than a half-century ago due to its violence. There's also a film historian commentary track and several featurettes.
Article continues below advertisement
Louie: Season 1 – After the pathetic failure that was HBO's Lucky Louie, top-notch comedian Louis C.K. rebounds in a big way with this insightful, witty slice-of-life comedy, featuring the actor playing a convincing version of himself, a divorced dad struggling to make sense of it all. Each episode of the show is a thought-provoking and hilarious gem. Deleted scenes and commentary are included.
Shot in the Dark – Entourage's Adrian Grenier directs this deeply personal narrative documentary about his quest to finding his birth father. Grenier shows promising acumen as a director, telling a fast-paced and involving story with a deft touch. The DVD includes a where-are-they-now style update about Grenier's family situation.
Unknown – Liam Neeson snarls his way through this thriller as a man who awakens from a coma, only to discover that his wife doesn't recognize him and an apparent identity thief has taken over his life. The film has a bit of a Shutter Island feel, albeit with less ambition and a low-rent (by comparison) filmmaker team and cast. The Blu-ray/DVD combo lacks a digital copy and includes only a smattering of forgettable featurettes.
Cedar Rapids – Ed Helms continues to prove he's one of the funniest actors in movies, seizing the starring role in this charming and hilarious tale of a dopey insurance salesman who bumbles his way through a conference, finding love, new pals and adversaries. Helms's oblivious act is not perfect. The Blu-ray/DVD/digital copy includes several deleted scenes and making-of featurettes.