NEWS
The PhilmGuy's DVD Review: 'Biutiful'; 'True Blood': Season 3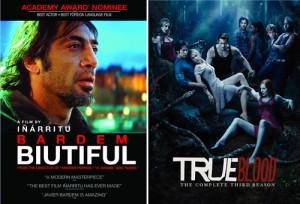 Biutiful – In a role that earned him a best actor Oscar nomination – something that rarely happens in a foreign language film – Javier Bardem plays a Barcelona criminal who struggles to keep his family together as he sinks in deeper and deeper to trouble, much of which he created for himself. Alejandro Gonzalez Inarritu, who helmed Babel and Amores Perros, continues to prove himself to be a master storyteller. A lackluster making-of doc is the only notable special feature.
Article continues below advertisement
American Graffiti Blu-ray — The seminal 1973 George Lucas-directed coming-of-age flick rounds up Richard Dreyfuss, Harrison Ford and Ron Howard, following teens in one long night in the early 1960s. The nostalgic trip is a cultural touchstone holds up well. Included are presumably all extras from DVD editions, including an extensive making-of doc, as well as a new picture-in-picture commentary with Lucas.
THE PHILMGUY REVIEWS THE HANGOVER: PART II
A Clockwork Orange Blu-ray – Stanley Kubrick's spellbinding 1971 drama, set in a dystopian future rife with rape and robbery, in which a criminal (Malcolm McDowell) is forced to undergo an inhumane reprogramming procedure. The 40th anniversary Blu-ray/digital copy combo brims with extras, including an interview with McDowell in which he recalls the late, great director. McDowell also pitches in on a commentary track, a making-of documentary and a retrospective look at the movie's impact.
Article continues below advertisement
Drive Angry – Nicolas Cage has an affinity for signing on to terrible action movies, but every now and then he stumbles on to something near-brilliant, such as this over-the-top free-for-all. Cage plays a damned, dead man who breaks out of hell to track down killers who murdered his daughter and kidnapped her baby. He takes a femme fatale played by Amber Heard along for the ride, which is full of gratuitous explosions, sex and one-liners. The disc includes deleted scenes and filmmaker commentary.
THE PHILMGUY'S DVD REVIEW: THE ROOMMATE; GNOMEO & JULIET
The Great Dictator Blu-ray – Charlie Chaplin's 1940 magnum opus is a scathing mockery of Hitler's Germany. The politically-minded comedy is one of history's greatest films not only because of its laughs, but because of its historical significance. The Criterion Blu-ray treats the film with due reverence, but unfortunately misses some of the extras that were on the exhaustive 2003 DVD, but some memorable new ones make up for their absence. Commentary, retrospective documentaries and interviews that underline the movie's importance are included.
Article continues below advertisement
Leaving Las Vegas – Nicolas Cage and Elisabeth Shue star in this gritty 1995 drama. Cage plays a suicidal alcoholic who has given up on life, but finds a tenuous reason to live when he begins a romance with a grizzled hooker (Shue). Director Mike Figgis weaves a downbeat yet stirring tale, and Cage deliver one of his finest performances. The extras are slim and feel like something of an afterthought.
THE PHILMGUY'S DVD REVIEW: BLUE VALENTINE; NO STRINGS ATTACHED
Passion Play – Who knew Megan Fox could act? She shows some rarely-before-seen range as a circus freak, kept under the thumb of cruel management, who is endowed with angel-like wings. A broken-down musician (Mickey Rourke) falls in love with her at first sight and they flee together as the organization's cruel management chases them down. Bill Murray and Rhys Ifans have supporting roles. There are few notable extras on the disc.
True Blood: Season 3 – HBO's sexy monster mash series, which was once a clever satire with political and philosophical undertones, continues to toss aside the brainy stuff and grow more ridiculous and prurient as the seasons roll on. Still, the show remains one of my favorites because of its excellent acting and compelling, soap opera-on-steroids storytelling. The Blu-ray includes the usual slate of fascinating extras that immerse you into the tale's fiction.