NEWS
The PhilmGuy's DVD Review: 'Beastly'; 'Sucker Punch'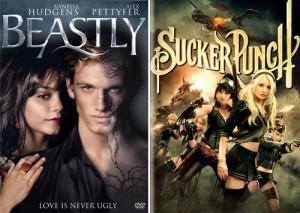 Beastly – This one's more notable for its odd and surprisingly high-profile supporting cast (Neil Patrick Harris, Mary-Kate Olsen and Peter Krause) than its weak Beauty and the Beast by way of Twilight rehash. Vanessa Hudgens stars as a girl who falls for the most popular guy (Alex Pettyfer) in high school, who goes into seclusion after a witch played by Olsen casts a disfiguring curse on him. Groan-inducing dialogue, a goofy soundtrack and brooding tone make the movie Mystery Science Theater 3000 fodder. The extras consist of an alternate ending, deleted scenes, a music video and a look at the makeup effects.
Article continues below advertisement
Ancient Aliens: Season 2 – The History Channel's part educational, part crackpot show interviews historians who speculate that aliens visited humanity from ancient times through World War II, posing as gods, sharing technology and creating races of mutant giants. It's fun stuff, and no matter how silly things got I wanted more. The extras are lacking, but the show does such a thorough job of exploring its premise, I'm willing to forgive it.
THE PHILMGUY REVIEWS: BAD TEACHER STARRING CAMERON DIAZ AND JUSTIN TIMBERLAKE
Barney's Version – Paul Giamatti plays a mercurial TV producer who reflects on his life story to refute a book that he feels unfairly frames him. Makeup wizards allow Giamatti and his co-stars (including Dustin Hoffman, Minnie Driver and Rosamund Pike) to convincingly play their characters over the span of several decades, as Barney falls in and out of love and patches together his career. The Blu-ray/DVD combo includes a look at author Mordecai Richler, on whose novel the film is based.
Article continues below advertisement
The Lord of the Rings: The Motion Picture Trilogy – Extended Editions Blu-ray – A little more than a year after a Blu-ray set of the theatrical editions hit shelves, the box that true fans of the series longed for has finally escaped from Mordor. The epic J.R.R. Tolkien adaptations, which stand as three of the finest films ever made, blossom in gorgeous high-definition, and come equipped with an impressive squadron of extras, including digital copies and 26 hours of special features, including our and a half hours' worth of exhaustive making-of documentaries. No doubt fans will cling to the set as "their precious."
THE PHILMGUY'S DVD REVIEW: THE ADJUSTMENT BUREAU; CEDAR RAPIDS
Season of the Witch – Nicolas Cage will seemingly star in any movie at any time, and his lack of standards makes him a natural for this trainwreck, in which he and Ron Perlman play Crusaders who are tasked to escort a woman accused of witchcraft to a monastery. Luckily we're spared Cage attempting the requisite Historical British Accent. Instead, he awkwardly plays the character as though he's back in Con Air or Face/Off, and is never afraid to ham it up, providing a welcome distraction from the tired plot and bargain basement special effects. An alternate ending, deleted scenes and commentary make up the Blu-ray extras.
Article continues below advertisement
Team Umizoomi – Another strong effort in Nickelodeon's considerable stable of kiddie shows, the Diego/Dora-like adventure series features a robot with a screen on his chest, as well as his pals. The adventures teach math, shapes, patterns and measurements. Four episodes are included. An interactive game and character introductions make up the extras.
Sucker Punch – Director Zack Snyder (Watchmen, 300) goes off the deep end in this breathless, fairly nonsensical story of an institutionalized young woman (Emily Browning) who retreats into a fantasy world and goes off on a series of video game-style adventures while honing her dance skills. Abbie Cornish, Vanessa Hudgens, Jena Malone and Jon Hamm co-star in the barely comprehensible but usually entertaining romp. The Blu-ray/DVD/digital copy combo includes the excellent Warner Bros. Maximum Movie Mode, in which Snyder rewinds and pauses the movie in order to give you insightful, picture-in-picture commentary at his own pace. Animated promos for the movie and inside looks at the music are also included.