NEWS
The PhilmGuy's DVD Review: 'Beauty and the Beast'; 'The Karate Kid'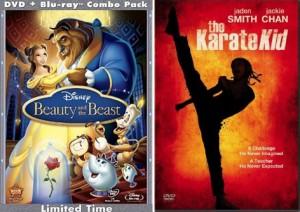 Beauty and the Beast Blu-ray – Disney is taking its sweet time releasing its animated masterpieces on Blu-ray, but at least it's giving the films the elaborate treatments they deserve. The magnificent 1991 fable shimmers in HD, and there's also a DVD copy of the movie, which means you don't have to feel bad about getting rid of an older version of the movie. Deleted scenes, games and background featurettes tell you much more than you'd ever want to know about the movie.
Article continues below advertisement
THE PHILMGUY REVIEWS: THE SOCIAL NETWORK
Scrubs: The Complete Series – All nine seasons – although most series fans could make do with out the bizarre final season, which ditched many of the strongest characters — of the groundbreaking hospital-set comedy are jammed into this set. The level of consistently hilarious writing over nearly a decade is astounding, and the tremendous cast (led by Zack Braff, Sarah Chalke and Donald Faison) has an impeccable sense of timing. This is one for the top of the bookcase for any series fan, as well as those who want to mainline the series during weekendlong binges. The set includes a bonus disc with loads of surprisingly sentimental, though funny, extras.
The Blair Witch Project Blu-ray – The guerilla-style 1999 horror film was a highwater mark for amateurish, high-concept indie film – without this, there would be no Paranormal Activity – and although it plays a little stiff and silly more than a decade after the fact, it still packs its share of chills. The tale of film students who track down the legend of a mysterious witch doesn't look so great in HD, but it's nice to see a set of four alternate endings, in addition to filmmaker commentary.
Article continues below advertisement
THE PHILMGUY'S DVD REVIEW: IRON MAN 2; GET HIM TO THE GREEK
Elvis & Anabelle – Blake Lively plays an anorexic beauty queen who is magically resurrected by a necrophiliac kiss from the son of an undertaker (Max Minghella), kicking off a romance between the leads. You can excuse the Minghella character from hiding the secret of how he brought Lively back to life for the majority of the film, but it all leads to an inevitable late-film fight and tearful resurrection. The odd-duck romance is nothing special but reasonably entertaining if you're willing to accept its predictability.
Family Guy: Partial Terms of Endearment – If you're willing to pay $10 to see one 24-minute unaired episode of the sitcom, you are a true believer. It's an entertaining tale, in which Lois decides to be a surrogate mother for an old college friend, only to consider abortion when the couple suddenly dies, but by no means is this worth shelling out decent money for. The least Fox could have done would have been to pack a few bonus episodes in the package, but all you get is a table reading, a selection of songs and a digital copy of the episode.
Article continues below advertisement
THE PHILMGUY REVIEWS: THE LEGEND OF THE GUARDIANS: THE OWLS OF GA'HOOLE
Grindhouse: Special Edition – It's about time the 2007 double-feature lark, in which BFF directors Quentin Tarantino and Robert Rodriguez took turns telling 1970s-style exploitation flicks, hits Blu-ray in the form in which it played in the theaters, accompanied by mock-trailers in between the two movies. Rodriguez leads things off with Planet Terror, a grotesque, riotous zombie flick, while Tarantino follows up with Death Proof, which is best described as muscle car porn. There's a gag reel, a Tarantino interview and previously unreleased deleted scenes from Death Proof amid the extras.
The Human Centipede – A seriously screwed-up horror flick goes out of its way to be disturbing. A mad scientist type traps and knocks out unsuspecting victims, attaching them together in ways you'd probably rather not consider in order to form them into a, well, just refer to the title. Disgusting though the movie was, it never lost my rapt attention. Director commentary and deleted scenes head up a thin group of extras.
Article continues below advertisement
The Maltese Falcon Blu-ray – If the only Humphrey Bogart film you've seen is Casablanca, prepare to be blown away by Bogey at his absolute best in this 1941 potboiler, the quintessential film noir. Bogart plays a private eye drawn into a hunt by three weirdo criminals for a famous statue. Crackling dialogue and raging suspense pulse throughout the lightning-paced story. The Blu-ray isn't quite overflowing with extras, but has a background featurette, commentary from Bogart's biographer and an out-of-place reel of blooper outtakes from the movies of 1941.
Secretary Blu-ray – This 2002 erotic comedy/thriller stars James Spader as a sadistic, misogynistic lawyer and Maggie Gyllenhaal as his sultry, submissive secretary. It's a cult favorite with a viral quality that gives you the need to lend to a friend, only to find out that they've lent it to someone else and you'll never see it again. The extras are light, with filmmaker commentary and a limp behind-the-scenes doc.
Article continues below advertisement
The Treasure of the Sierra Madre Blu-ray – Writer/director John Huston teams with go-to-guy Bogart for this giddy, 1948 treasure-hunt flick set in the rural outposts of Mexico. Double-crosses, rivals and the cruel surroundings threaten the get-rich-quick dreams of the protagonists. Extras include a documentary on Huston, outtakes and a featurette based on the story.
The Karate Kid (2010) – Will Smith offspring Jaden Smith assumes the Ralph Macchio role as a bullied young lad who takes up martial arts to gain the self-respect and toughness to seize control of his life. The setting is China rather than SoCal and Jackie Chan stands in for the iconic Mr. Miyagi. Those who adore the 1984 original won't be blown away here, but the remake manages to tell the exciting underdog tale without botching it too badly. The Blu-ray includes a DVD and digital copy and loads of making-of featurettes, some of which are narrated by Chan.
Phil Villarreal's humorous money-saving book, Secrets of a Stingy Scoundrel, is available on Amazon.