NEWS
The PhilmGuy's DVD Review: 'Blue Valentine'; 'No Strings Attached'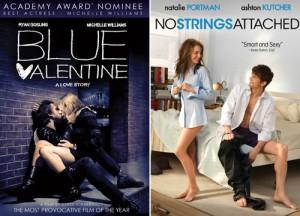 Blue Valentine – I'm ashamed of myself for not having seen this movie before I put together my top 10 list last year, because it definitely would have cracked the top five. Ryan Gosling and Michelle Williams play a couple whose unhappy marriage is collapsing. The narrative flips back and forth between the past and present, as you see warning signs of future misery develop through their courtship. Devastating performances by the leads, as well as the twists in the story, continue to haunt me weeks after I've seen the film. The director and editor provide a commentary track, and there are also deleted scenes and a making-of featurette round out the extras.
Article continues below advertisement
The Illusionist – I never went for the work of famed French filmmaker Jacques Tati, but his script was well-made into a stunning, whimsical animated film that managed to bump off Tangled to nab a best animated film Oscar nomination. The film is technically in French, but there's hardly any dialogue in the movie, which consists of grunts and gibberish to tell the tale of an elderly magician and an orphan girl he takes under his wing. A making-of doc and test animation sequences highlight the extras.
THE PHILMGUY REVIEWS: SOMETHING BORROWED STARRING KATE HUDSON & GINNIFER GOODWIN
Justin Bieber: Never Say Never – Due out Friday, the performance-heavy documentary about the teen sensation is every bit as substantial and deep as the artist's edgy, meaningful lyrics. That is to say, there's little consequential in this feel-good hagiography, which gawks at the boy wonder with the tearfully overjoyed eyes of a middle-school-aged fan. Those hoping for some insight as to how Bieber's star rose so quickly or what sorts of obstacles he faces. The Blu-ray/DVD/digital copy combo includes live performances and painfully obviously staged "behind-the-scenes" looks at Bieber's life.
Article continues below advertisement
THE PHILMGUY'S DVD REVIEW: THE GREEN HORNET; THE DILEMMA
Something Wild Blu-ray – Melanie Griffith and Jeff Bridges star in this ludicrous and fun travelogue about an uptight businessman who tosses his cares into the wind to run off with the free-spirited Griffith character, whose batting eyelashes transform him into a petty criminal who ditches his fears and routines to get more out of life. The typically awesome slate of Criterion extras aren't present here, with only interviews with the director and writer.
THE PHILMGUY'S DVD REVIEW: SOUTH PARK; HUMAN PLANET
No Strings Attached – Natalie Portman, who seems to be starring in every other movie these days, stars along with Ashton Kutcher in this tone-deaf romantic comedy about a couple determined to remain platonic sex friends despite their growing romantic yearnings. The dialogue lacks zip and sounds every bit as workshopped as an episode of Friends, and the predictable plot won't turn any heads. The Blu-ray includes a digital copy and a smattering of barely noticeable extras.