NEWS
The PhilmGuy's DVD Review: 'The Breakfast Club' Blu-Ray; 'Kick-Ass'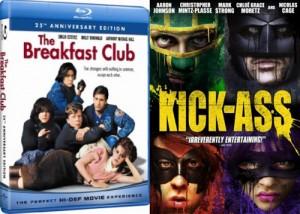 The Breakfast Club: 25th Anniversary Edition Blu-ray – The seminal 1985 John Hughes drama about the bonding of high school kids from different social strata is past its expiration date – and let's face it, the movie probably wasn't so accurate even in its day – but still works for its campy humor and out-of-nowhere moments of genuine emotional punch.
The Brat Pack is in full effect, with Emilio Estevez, Molly Ringwald, Anthony Michael Hall, Judd Nelson and Ally Sheedy all in peak form. The Blu-ray adds a 12-part look back at the film and commentary by Nelson and Hall, as well as a look at the movie's impact on pop culture.
Article continues below advertisement
THE PHILMGUY REVIEWS: DINNER FOR SCHMUCKS
After.Life – Christina Ricci continues her sad decline in this disturbing and dull drama in which she spends most of the film playing her character's corpse, who communicates with an undertaker (Liam Neeson) with Hayley Joel Osment abilities. Meanwhile, the Ricci character's grieving boyfriend (Justin Long, who's out of his element) stumbles around, trying to make sense of it all. Ricci endures several degrading scenes as a topless dead woman. Avoid.
THE PHILMGUY'S DVD REVIEW: CLASH OF THE TITANS; RAMBO
Crouching Tiger, Hidden Dragon Blu-ray – Ang Lee's exuberant 2000 martial arts opus dazzles with impressive, over-the-top wire-fu effects and screen-scalding performances from Chow Yun-Fat, Michelle Yeoh and Zhang Ziyi. The disc is loaded with extras, including director and cinematographer commentaries, a making-of doc and interview with Yeoh.
Finding Bliss – Leelee Sobieski has been MIA for a while, but she fulfills the promise she showed as a teen as an idealistic film school grad forced by circumstance to work in the porn industry. She puts in her hours at the studio, moonlighting by making her own film as she tries to resist falling for the roguish porn director (Matt Davis) and finds a kinship with an actress played by Denise Richards. The DVD is light on extras but the movie is a heartwarming surprise that's well worth a rental.
Article continues below advertisement
James and the Giant Peach Blu-ray – Henry Selick's 1996 Roald Dahl adaptation gets the mega-blowout Disney Blu-ray/DVD combo treatment, complete with a digital copy, an ant-themed game, and a making-of featurette. The stop-motion animation is beautiful in high-definition, with the transfer comparable to the stunning Blu-ray of The Nightmare Before Christmas.
Road to Perdition Blu-ray – Paul Newman delivers one of his last great performances as a crime boss in this 2002 graphic novel adaptation, starring Tom Hanks as a hit man who works for the Newman character and faces a crisis of conscience. The Blu-ray includes deleted scenes, a new introduction from director Sam Mendes and a retrospective on cinematographer Conrad Hall, who passed away in 2003.
THE PHILMGUY'S DVD REVIEW: COP OUT; JERSEY SHORE
Kick-Ass – A joyous superhero nerd flick that oozes with comic book references, Kick-Ass stars Aaron Johnson as a nerdy teen who becomes a masked vigilante through sheer force of will. The movie lacks star power but lives up to its namesake with relentless energy, loads of laugh-out-loud moments and ceaseless action. The Blu-ray combo pack includes a DVD and digital copy, as well as an interactive commentary, a making-of doc, an art gallery and a glance at the film's comic book origins.
Phil Villarreal's humorous money-saving book, Secrets of a Stingy Scoundrel, is available on Amazon.