NEWS
The PhilmGuy's DVD Review: 'Californication'; 'Scott Pilgrim vs. the World'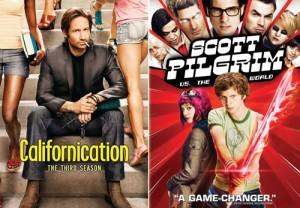 Californication: Season 3 – Each season of this David Duchovny-led sex romp is better than the last, making this the most enjoyable season yet. Duchovny plays a fallen literary star who is trying to make some extra money by serving as an adjunct college professor.
Before long he finds himself juggling affairs with students and an administrator while still pining for the love of his life (Natasha McElhone), who is the heavily disappointed mother of his child. Rick Springfield adds to the fun, making a hilarious and decidedly unflattering guest star turn. There are no extras except for sample episodes of other Showtime dramas.
Article continues below advertisement
THE PHILMGUY REVIEWS: DUE DATE
Antichrist – Provocative Danish director Lars von Trier directs a sadistic drama about a couple (Willem Dafoe and Charlotte Gainsbourg) who retreat to an isolated cabin following the death of their child. Graphic sex scenes, psychological and physical torture and other things that pass for entertainment in the disturbed mind of the filmmaker follow. Nine background featurettes, commentary by von Trier and interviews with Gainsbourg and Defoe fill out the package.
Charlie St. Cloud – Zac Efron continues to show signs that he's got a long career ahead of him following the seemingly endless High School Musical series, but he needs to start finding better scripts unless he wants to wind up in Brendan Fraser-ville. This aimless wannabe tear-jerker stars Efron as a young man torn apart by the death of his younger brother, whom he sees in frequent visions. Amanda Crew pops up as the love interest who tries to set his life straight. Deleted scenes and an interview with Efron and director Burr Steers are the most notable extras on a forgettable disc.
Article continues below advertisement
OK! GALLERY: DUE DATE DUDES RDJ & ZACH DO IT UP IN LONDON
Deadliest Catch: Season 6 – One of the manliest reality shows imaginable, the gritty Discovery Channel travelogue follows men on a fishing boat through their hardscrabble lives, battling the elements -- as well as one another. Expect to see disagreements settled by shoves and the occasional punch to the jaw rather than in snippy confessionals. Deleted scenes, webisodes and conversations with the ship's captain highlight the extras.
Grown Ups – After his run of genius in the 1990s, Adam Sandler's comedies have been hit and miss for the past decade, and his latest outing is among the worst of his questionable recent output, surpassed in awfulness only by his horrid remake of The Longest Yard. It's a tone-deaf story of former childhood friends who meet up in middle age and contemplate their lost youth. A promising supporting cast of David Spade, Rob Schneider and Chris Rock can't bring any humor into the escapades. The Blu-ray includes a digital copy and DVD, making the movie capable of disappointing you in three different formats.
Article continues below advertisement
THE PHILMGUY'S DVD REVIEW: THE PACIFIC; TOY STORY 3
Ocean's 11: 50th Anniversary Blu-ray – The Rat Pack runs roughshod through Vegas in this barely-watchable 1960 heist film that was remade and then run into the ground with unnecessary sequels by George Clooney and the gang. The original Ocean's 11 is most worthwhile as an opportunity to watch Frank Sinatra, Dean Martin, Sammy Davis Jr. and crew pal around and carouse on the studio's time. For a 50th anniversary edition, the Blu-ray is light on extras, although the commentary track by Frank Sinatra Jr. and Angie Dickinson is more fun than the film itself.
Love Ranch – It's been too long since Joe Pesci got to chew up some scenery, and he makes up for lost time by dominating the tale of Nevada's first brothel owner. Boisterous and capable of snapping into sadistic rage at any moment, he's fascinating to watch. Helen Mirren is just about his equal as the Pesci character's frustrated wife. Mirren provides commentary along with director Taylor Hackford, her husband.
Article continues below advertisement
Scooby-Doo, Where Are You! The Complete Series – Packaged in a replica Mystery Machine, complete with Shaggy at the wheel and Scooby riding shotgun, the eight-disc set that captures the 41 episodes in the original 1969-1971 series, which hasn't aged well but packs a surprising amount of nostalgic charm. A trivia challenge and smattering of trailers lead the rather slim string of extras.
THE PHILMGUY'S DVD REVIEW: BACK TO THE FUTURE; WINTER'S BONE
The Super Hero Squad Show: Quest for the Infinity Sword, Vol. 2 – The kid-friendly take on Marvel's heroes continues to impress, with ceaseless, inventive action and smarmy undertones that will appeal to adults while the kids are poised on the edges of their seats. Concept art and profiles of the heroes join the six episodes on the disc.
THE PHILMGUY REVIEWS: HEREAFTER
Scott Pilgrim vs. the World – A brilliant adaptation of the Bryan Lee O'Malley's series of graphic novels, this overlooked delight stars Michael Cera as a meek, video game-obsessed slacker who falls hard for a hipster chick (Mary Elizabeth Winstead) and learns he must fight her seven evil exes to win her favor. Director Edgar Wright infuses tidbits from video game culture into every frame, providing endless delights to those willing to comb through the rich visuals and dialogue in multiple viewings. As heartfelt as it is funny, I expect the movie will do far better on home video than it did in theaters, where it fizzled quickly. The Blu-ray/digital copy combo pack is stacked with extras, including a look at the music in the film, deleted and extended scenes, background production info and Wright's commentary.