NEWS
The PhilmGuy's DVD Review: 'Couples Retreat,' 'Gangs of New York'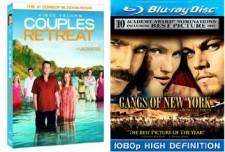 Couples Retreat – Vince Vaughn and Malin Akerman make up one of four couples who venture off to an idyllic resort for some intense couples therapy with generally funny results. It helps that Vaughn's former Swingers running mate, Jon Favreau, is also along for the ride. The Blu-ray includes a digital copy of the movie, as well as deleted and extended scenes, an alternate ending and rehearsals of the infamous yoga scene.
Article continues below advertisement
Gangs of New York Blu-ray – Although it's dubbed as a remastered version of the film, I couldn't notice any difference, and the special features remained the same. That said, Martin Scorsese's 2002 opus about Irish gangs in NYC, starring Daniel Day-Lewis, Leonardo DiCaprio and Cameron Diaz has aged well, and looks glorious in HD. But there's no need to upgrade if you've got the previous version.
GoodFellas: 20th Anniversary Blu-ray – A blowout 34-page book that doubles as the packaging — as well as a documentary on the evolution of the gangster film, two commentaries and scores of behind-the-scenes extras — gives the 1990 Scorsese classic a fitting treatment. The film has been released on Blu-ray before, but the new one is by far the definitive edition.
OK! NEWS: THE PHILMGUY'S DVD REVIEW: ZOMBIELAND AND NEW YORK, I LOVE YOU
The Life & Times of Tim: The Complete First Season – HBO's riotous animated series features the deliriously awkward title character (Steve Dildarian), who through passivity and ill-advised shows of good social manners winds up in all sorts of non-P.C. trouble. In addition to the 10 episodes from the season, several hilarious shorts are included as extras.
MORE ON:
Reese Witherspoon
Article continues below advertisement
Mickey Mouse Clubhouse: Minnie's Bow-Tique – It's a rather uninspired compilation of episodes from the cutesy Disney kiddy show, and I'd be inclined to bash the release if the title episode hadn't sent my 3-year-old into laughter convulsions. The disc includes four Minnie Mouse-focused episodes, one of which hasn't been aired on the Disney channel, with scant extras. But Luke will tell you it's well worth it.
OK! NEWS: THE PHILMGUY'S REVIEW: WHEN IN ROME
A Serious Man – The Coen brothers' understated, Best Picture Oscar nominated comedy about a browbeaten man (Michael Stuhlbarg) who bungles through middle-class life in the 1960s plays like the anti-Mad Men. Excellent performances and razor-sharp writing. The Blu-ray includes some background documentaries, although nothing inspiring.
Walk the Line Blu-ray – Joaquin Phoenix and Reese Witherspoon star in this epic biopic on Johnny Cash, with thundering music throughout, excellent performances — both vocal and acting — by the leads and precise pacing that never slacks off. Commentary, deleted scenes and extended musical sequences top off an excellent package.
Phil Villarreal's humorous money-saving book Secrets of a Stingy Scoundrel is available on Amazon.