NEWS
The PhilmGuy's DVD Review: 'Dirty Dancing'; 'Saving Private Ryan'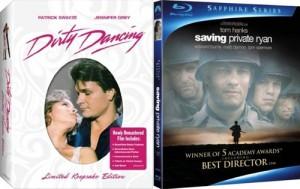 Dirty Dancing: Limited Keepsake Edition The cornball 1987 dance flick with Patrick Swayze and Jennifer Grey gets yet another re-release, this one an unnecessary follow-up to a 2007 Blu-ray. The movie has its charms and nostalgia factor but it's questionable that it deserved as lavish a treatment as it gets here, with a blowout set of extras, including a tear-jerking tribute to the late Swayze and a digital copy. You can save some cash by going with the 2007 Blu-ray.
Article continues below advertisement
Go, Diego Go The Great Panda Adventure – The interactive bilingual hero stars in yet another compilation of episodes from his Nick Jr. series. There's not much of a rhyme or reason to the episodes included. It's pretty much grab bag of four randoms. You can probably do much better with your DVR.
THE PHILMGUY'S DVD REVIEW: AVATAR; CRAZY HEART
Iron Man Armored Adventures: The Complete First Season – An oddball, kid-friendly Iron Man adaptation that turns Tony Stark into a teen, slicing off a bit of the Peter Parker/Spider-Man aesthetic for the character. There have been better Iron Man adaptations, but this is a nice starter set to introduce little ones to the hero.
Iron Man: The Complete Animated Series – The short-lived 1994 Iron Man adaptation finally sees the light of day on DVD, thanks to the coming release of Iron Man 2. If you can get past the mid-1990s cornball factor, including some primitive CGI, you should be able to appreciate the action. The studio also released X-Men Volume 5, continuing the solid animated adaptation of the Marvel superhero squad.
Article continues below advertisement
THE PHILMGUY'S DVD REVIEW: DRAWN TOGETHER; THE LOVELY BONES
Saturday Morning Cartoons 1980s – The cover looks promising, with Mr. T staring at you with his "I pity the fool face" and an inset picture of Dirk the Daring of Dragon's Lair fame. But when you actually sit down to watch them you'll discover they were nowhere near as good as your memories. None of the 'toons on the disc hold up, and most are downright awful. This seems to be a slapdash collection of bottom-of-the-barrel episodes whose rights were available on the cheap.
True Blood Season 1 Blu-ray – Season 2 of HBO's divine bloodsucker drama is out May 25, so you have just enough time to pick up this set and catch up in time to prepare for season 3. Anna Paquin turns in some of the greatest performances in her life as a New Orleans waitress with psychic abilities who gets involved with a community of vampires. The show not-so-subtly equates the plight of vampires, which have been assimilated into society, to those of real-world ethnic and sexual preference minorities.
Article continues below advertisement
THE PHILMGUY'S DVD REVIEW: APOLLO 13; BATTLESTAR GALACTICA
Saving Private Ryan Blu-ray – Paramount lavishes Steven Spielberg's 1998 World War II masterpiece with a comprehensive HD tribute. Tom Hanks and Spielberg go wild on the extras, with just about every extra you could want, including breakdowns of key scenes and interviews with the filmmakers and cast, with loads of behind-the-scenes info. The studio has also released run-of-the-mill Blu-rays of K-19: The Widowmaker and Escape from Los Angeles.
Phil Villarreal's humorous money-saving book, Secrets of a Stingy Scoundrel, is available on Amazon.