NEWS
The PhilmGuy's DVD Review: 'Drawn Together'; 'The Lovely Bones'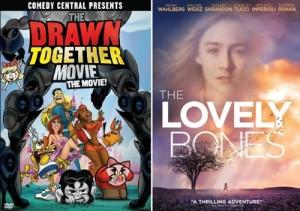 The Drawn Together Movie: The Movie! – Comedy Central's animated mockery of reality shows, in which knockoff cartoon celebrities from various eras lived together in a Big Brother-style environment, gets a sick and twisted direct-to-video movie that wears out its welcome quickly.
Without much of a plot, the characters are left to ham it up in a constant flow of one-liners and sight gags, but the novelty has worn off and there's little life to the affair, which is just loud and vulgar for the sake of being loud and vulgar. For what it's worth, the Blu-ray and DVD are loaded with making-of extras , including a detailed breakdown of the movie's admittedly hilarious sex scene.
Article continues below advertisement
THE PHILMGUY'S DVD REVIEW: APOLLO 13; BATTLESTAR GALACTICA
The Lovely Bones – Following megabudget blockbusters The Lord of the Rings and King Kong, Peter Jackson goes low-key in adapting the grim Alice Sebold novel about a teen girl (Saoirse Ronan) who is kidnapped and murdered by a neighborhood psycho (Stanley Tucci). The girl narrates the tale from beyond the grave as she searches for heaven, left to look on as her parents (Mark Wahlberg, Rachel Weisz) scurry to make sense of their lives. Many dismissed the movie, hailing it only for Tucci's stunning performance, but it hooked me and never let me go. The Blu-ray and DVD include scant extras, rather than a production diary.