NEWS
The PhilmGuy's DVD Review: 'Alvin & the Chipmunks: The Squeakquel'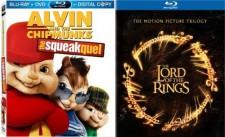 Alvin and the Chipmunks: The Squeakquel – A shamelessly dopey but passable computer-animated family comedy continues the franchise's resurgence. Jason Lee, who continues to degrade his career by starring in such nonsense, begs off in a bit role because his character, the Chipmunks' manager/father Dave, gets injured at the beginning and socked away in a hospital. Free to go on their silly way with minimal supervision, the Chipmunks go to high school and end up meeting the Chipettes. The Blu-ray includes a digital copy and DVD of the film and more than an hour of sing-alongs, music videos and behind the scenes junk are included as extras.
Article continues below advertisement
WIN IT! ALVIN & THE CHIPMUNKS: THE SQUEAKQUEL
Battlestar Galactica: Season 2 Blu-ray – Although the complete series came out last year on Blu-ray, Universal is putting the series out piece by piece. The stellar sci-fi series includes audio commentaries, deleted scenes and video blogs. BSG is one of the landmark dramatic series of all time, but you'd do better to pick up the complete series rather than buy the set piecemeal, unless you're just filling a hole in your collection.
The Natural Blu-ray – The 1984 baseball classic, starring Robert Redford as a farm boy who overcomes tragedy to make it in the big leagues when he's close to middle age, is a perfect way to get into the mood for the overwhelmingly long slog of the new baseball season. The Blu-ray lacks a digital copy but includes a smattering of solid featurettes, including making-of docs, interviews and a look at the mythology of the story.
Article continues below advertisement
THE PHILMGUY REVIEWS: HOT TUB TIME MACHINE
The Lord of the Rings: The Motion Picture Trilogy Blu-ray – Peter Jackson's sprawling take on J.R.R. Tolkien's books – I among many others consider the films a vast improvement over the already impressive text – shine to glorious life in high-definition. The films come with digital copies and contain more than seven hours of special features. The drawback is Warner Bros. is holding back a bit with this set, releasing only the theatrical versions of the film and not including the extended versions. You can bet that a future set will include those, so if the extended films are what you're after you'll want to hold off.
THE PHILMGUY'S DVD REVIEW: TOY STORY; MAD MEN
The Lord of the Rings (animated) Blu-ray – The 1978 animated version of the Tolkien trilogy hasn't aged well and looks especially crass and embarrassing in the wake of Jackson's masterpieces. But those with nostalgia for this old-school version will be happy with the Blu-ray, which includes a digital copy and an interview with director Ralph Bakshi.
Phil Villarreal's humorous money-saving book, Secrets of a Stingy Scoundrel, is available on Amazon.