NEWS
The PhilmGuy's DVD Review: 'Due Date'; 'Weeds'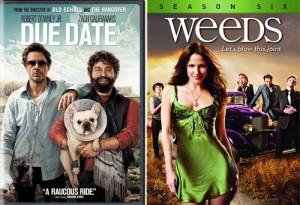 Due Date – Director Todd Phillips (The Hangover) spins another wildly funny sophomoric tale, this one a rip-off of Planes, Trains and Automobiles. Robert Downey Jr. plays a man desperate to make it to the birth of his son, and plot contrivances force him to make the trip with a freakish loser (Zack Galifianakis). The light-as-air film hits its comedic marks, and although you'll probably forget it all by the time the credits roll, you'll have a good time. The Blu-ray combo pack includes a digital copy, a DVD, deleted scenes and a mash-up of some action scenes.
Article continues below advertisement
All-Star Superman – The superhero faces his mortality in this exciting animated feature. Convinced he's close to death after a visit to the Sun, he reveals his identity to Lois Lane and tries to set things right on earth before he departs, including confronting archrival Lex Luthor once and for all. The film tackles grown-up themes with nuance, while still including plenty of action. The Blu-ray includes a digital copy, a digital comic book on the story on which the film is based, as well as commentary and an interview with writer Grant Morrison.
THE PHILMGUY'S DVD REVIEW: UNSTOPPABLE; YOU WILL MEET A TALL DARK STRANGER
Get Low – Robert Duvall simmers as a legendary hermit who emerges from seclusion to attend his own pre-death funeral. Elegaic drama combines with dark comedy for a stirring film, which was bafflingly completely ignored by the Oscars. A dry, cool Bill Murray pops up in a memorable supporting role. The disc includes a cast commentary track, four background featurettes and cast interviews.
Article continues below advertisement
Megamind – Due out Friday, this re-imagining/satire of the Superman mythos is one of the funniest animated films I've seen in years. Will Ferrell voices a brainy, egotistical alien who grows up in the shadow of a stiff, stuffy Superman-like enemy (voiced by Brad Pitt). When Megamind triumphs over his enemy, he finds himself straying from his evil background in order to train a new rival and trying to win the heart of a lady. The Blu-ray/DVD combo disappointingly lacks a digital copy, but makes up for the shortcoming with a strong set of extras, including commentary, drawing lessons, a video comic book and a silly game you play with the remote controller.
THE PHILM GUY REVIEWS: JUST GO WITH IT
Memento Blu-ray – Before Christopher Nolan became known as one of the greatest filmmakers around, he kick-started his career in 2000 with this wildly inventive mystery, told backward from end to beginning. The tale is of a man (Guy Pearce) with short-term memory loss who's bent on revenge he doesn't understand. Nolan's commentary, the short story that inspired the movie and a breakdown of the way a key scene was filmed pepper the lineup of extras.
Article continues below advertisement
Nurse Jackie Season 2 – Edie Falco continues to thrive in her post-Sopranos career, playing a smarmy emergency room nurse in this Showtime drama. The second season ups the stakes with stunning cliffhangers and fascinating story twists. The extras live up to the series with insightful featurettes and commentary tracks featuring Falco and other castmembers.
THE PHILMGUY'S DVD REVIEW: LIFE AS WE KNOW IT; IT'S KIND OF A FUNNY STORY
Stieg Larsson's Dragon Tattoo Trilogy – Noomi Rapace stars in The Girl with the Dragon Tattoo, The Girl Who Played with Fire and The Girl who Kicked the Hornets' Nest, all based on Swedish author Stieg Larsson's cyberpunk books. The trilogy starts off red hot and fades by the end, but the films flow with a rapid pace and Rapace establishes herself as a bona fide international star. The option to watch dubbed versions is nice, and the boxed set includes two hours of new extras, including a documentary about adapting the books, as well as interviews with the filmmakers and cast.
Weeds Season 6 – Even if Weeds were a terrible show – instead, it's one of the best on television – it would be worth watching just to bask in the glow of star Mary-Louise Parker, who thrives as a drug-dealing single mother who this season is on the run from the Mexican mob. Linda Hamilton, Alanis Morissette, Richard Dreyfuss and Mark-Paul Gosselaar pop up in charming guest stints, and the extras include commentary on some episodes from the series creator, as well as featurettes and cast interviews.