NEWS
The PhilmGuy's DVD Review: 'Friday Night Lights'; 'Tangled'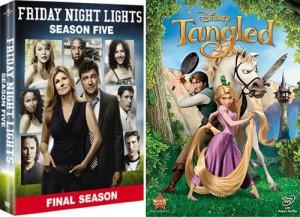 Tangled – You have to hand it to Disney for attempting to compete against DreamWorks and Pixar in the realm of computer animation, even though the studio repeatedly fails to match the likes of the Shreks and Toy Stories of the world. The flippant take on the Rapunzel fable is good for a few slapstick laughs, and has much more to offer children than it has adults. The Blu-ray disappointingly lacks a digital copy but deleted and extended scenes and a making-of feature help make up the difference.
Article continues below advertisement
THE PHILMGUY REVIEWS: SOURCE CODE STARRING JAKE GYLLENHAAL
Little Fockers – Following the debacle that was Meet the Fockers, Ben Stiller and Robert De Niro rebound for a surprisingly witty comedy that recaptures much of the magic of Meet the Parents. The domineering father-in-law who was a former spy, De Niro brings his bravado to the role, putting the squirrelly, eager-to-please Stiller through a series of ludicrous tests. Dustin Hoffman and Barbra Streisand reprise their roles as Stiller's nutty parents. The Blu-ray includes a digital copy, interviews with De Niro and Stiller and deleted scenes.
THE PHILMGUY'S DVD REVIEW: BLACK SWAN; ALL GOOD THINGS
Taxi Driver Blu-ray – Martin Scorsese's gritty, devastating 1976 cinematic landmark stars Robert De Niro as an increasingly delusional and bitter Vietnam vet who roams the lonely New York City streets, fashioning himself a hero. Socially awkward beyond repair, he screws up potential relationships and becomes the self-appointed guardian of a girl prostitute (Jodie Foster). The box is teeming with extras, including just about everything on the considerably well-stacked previous DVDs as well as a tribute to Scorsese, interviews with real taxi drivers and storyboards.
Article continues below advertisement
Tron/Tron Legacy Blu-ray – Disney's bizarre cyberpunk 1982 classic and its 2010 sequel arrive in one magnificent package. The series has aged poorly, with the cheesy special effects and neon-circuitry jumpsuits, but remains appealing in a Saturday morning cartoon sort of way. Eerily impressive are the digital effects that allow Jeff Bridges to play an evil, younger and thinner version of himself. Extras include a digital copy of the sequel, retrospective looks at the original and making-of featurettes on both films, as well as deleted scenes.
THE PHILMGUY'S DVD REVIEW: HOW DO YOU KNOW?; THE TOURIST
Friday Night Lights: Season 5 – The exciting, heart-melting drama centered around Texas high school football reaches its conclusion. The season follows the saga of a coach (Kyle Chandler) who was exiled from a state power who tries to turn around a downtrodden school on the wrong side of the tracks while juggling his family life. Deleted scenes, commentary tracks and a devastating goodbye documentary fill out the extras.