NEWS
The PhilmGuy's DVD Review: 'How Do You Know'; 'The Tourist'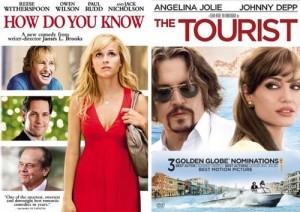 How Do You Know — After a lengthy layoff, Reese Witherspoon jumps back into the romantic comedy game as a pro softball player forced into retirement who takes up with a pro baseball phenom (a miscast Owen Wilson), leaving an uptight businessman (Paul Rudd) to pine for her affection. The dull-edged love triangle has a few moments, but wears out its welcome long before the end credits roll. Filmmaker commentary and deleted scenes are included.
Article continues below advertisement
THE PHILMGUY'S DVD REVIEW: THE FIGHTER; THE SWITCH
Scary Movie 4 Blu-ray — The Unnecessary Blu-ray Release Award for the week is proudly accepted by this middling 2006 horror satire, which pokes fun at one of the Saw sequels and basically every other movie and pop culture meme that was popular the year before, with references that induced chuckles at the time but now seem dated. Prepare yourself for Shaq-Kobe rivalry references and the like. The Blu-ray lacks the commentary track from a previous DVD release, but does include bloopers and several forgettable scattershot featurettes.
Skyline — The alien invasion drama fails to live up to its intriguing trailer, resulting in a weak imitation of Independence Day and War of the Worlds, introducing us to a slew of uninteresting characters who try to survive the extraterrestrial apocalypse. The only reason I sat through the entire film was to verify my hypothesis that it would stay so awful for the entire running time. Filmmaker commentary and deleted and extended scenes — you won't believe just how bad a scene has to be to be left out of a movie like this — fill out the disc.
Article continues below advertisement
THE PHILMGUY REVIEWS: RED RIDING HOOD STARRING AMANDA SEYFRIED
Stand by Me Blu-ray — The watershed 1986 coming-of-age flick, featuring pint-sized versions of Wil Wheaton, Jerry O'Connell, River Phoenix and Corey Feldman in a tale of boys who sneak away from their homes together in order to check out rumors of a hidden corpse. Director Rob Reiner, Wheaton and Feldman provide a spectacular picture-in-picture retrospective commentary, and the features from the previous DVD release — including a Reiner commentary and making-of doc — return, sadly lacking the commemorative book from the previous version.
Yogi Bear — Dan Aykroyd and Justin Timberlake embarrass themselves, the Yogi Bear brand and moviedom in general by voicing the lead characters in this detestable kiddie flick. Tom Cavanagh, a good actor you may remember from Ed, is pitiable as the hapless ranger, and Anna Faris is out of place in another supporting role. The Blu-ray/DVD/digital copy combo includes a trivia game, a Loony Tunes short and a comparison of the original series to the film.
THE PHILMGUY'S DVD REVIEW: MORNING GLORY; THE WALKING DEAD
The Tourist —In a drama that exists for no other reason than to get two mega-popular screen stars together, neither Johnny Depp nor Angelina Jolie seem to notice the other one is there. They play strangers who meet on a train to Venice and are sucked into an alarmingly boring international crime conspiracy. The director's commentary, outtakes and an alternate animated title sequence are as exciting as a passport application.