NEWS
The PhilmGuy's DVD Review: 'Lost: The Complete Collection'; 'Gossip Girl'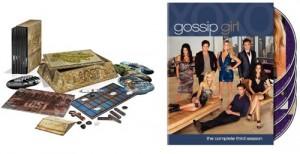 Lost: The Complete Collection – Jammed to the gills with extras, including more than 30 hours of bonus material and a number of physical mementos from the show (black light pen light, anyone?), the shelf-commandeering box gives Lost fanatics just what they desired.
Well, except for a satisfying ending to the saga. There's an 11-minute epilogue that answers a few lingering questions and reunites some fan-favorite characters. Whether or not you were hooked on the series, there's no denying its sea-changing impact on the TV landscape, and this set, available on Blu-ray as well as DVD, stands as a crucial piece of TV history. Season six is also out on Blu-ray and DVD.
Article continues below advertisement
THE PHILMGUY REVIEWS: NANNY MCPHEE RETURNS
Gossip Girl: Season 3 – This guilty-pleasure glimpse into the Manhattan young socialite scene keeps its steady cult following, thanks in part to solid writing and a strong cast that includes: Blake Lively, Leighton Meester, Taylor Momsen and Chace Crawford. Hilary Duff adds to the star power by checking in for a six-episode arc. The DVD set includes a gag reel, deleted scenes and a couple music videos, including Lady Gaga's "Bad Romance" – in case you haven't gotten enough of that one yet.
Flight of the Conchords: The Complete Collection – The offbeat HBO musical comedy series was one of the channel's gems, so it's a shame to see it fall to the wayside after just two seasons, but what seasons they were. Jemaine Clement and Brett McKenzie play unsuccessful versions of themselves, Kiwi folk singers who travel to the U.S. to get their careers going. The set also includes the previously unreleased special, Flight of the Conchords: One Night Stand.
Article continues below advertisement
THE PHILMGUY'S DVD REVIEW: COUGAR TOWN; DEXTER
$5 a Day – The older and sillier Christopher Walken gets, the more hypnotically entertaining he becomes. Playing a frugal-to-a-fault grifter who tries to make things right on a road trip with his distant son (Alessandro Nivola), Walken twists a bland, derivative script into something more. The only notable extras on the disc are cast and filmmaker interviews.
Nickelodeon Favorites: Happy Halloween – More robust than most Nickelodeon animation roundups, the disc includes six episodes of the network's sundry series, rather than the usual four. My 3-year-old was particularly fond of the Yo Gabba Gabba episode, which packs a pair of particularly inspired musical cartoons. Also on the disc: Dora the Explorer; Go, Diego Go; Wonder Pets, Blue's Clues and Ni Hao, Kai-lan.
Article continues below advertisement
THE PHILMGUYS REVIEWS: SCOTT PILGRIM VS. THE WORLD
The Simpsons: The Complete 13th Season – The 2000-2001 edition of the immortal animated satire of Americana is hit-and-miss, but there are some memorable moments, including a guest spot from the late Paul Newman. It's nice to see Fox continues to release the series on Blu-ray, which for my money does more for animation than live action. Extras include multiple featurettes focusing on malapropism-spewing cover-boy Ralph, storyboards and sketch galleries.
The Square – A spectacular coming-out party for Aussie Claire van der Boom, the tense drama features the actress as a married mistress of a hapless man (David Roberts) who uses her as an escape from a loveless marriage. Together the scheming couple pulls a heist that leads to blackmail, arson and backstabbing. The Blu-ray and DVD include deleted scenes, two featurettes and a short film by the director.
Phil Villarreal's humorous money-saving book, Secrets of a Stingy Scoundrel, is available on Amazon.