NEWS
The PhilmGuy's DVD Review: 'Cougar Town'; 'Dexter'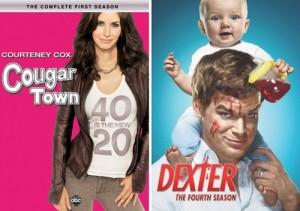 Cougar Town: Season 1 – Courteney Cox proves that the 2010s are the new 1990s. She's the life of the party as an uproarious single mother in her 40s, a female version of Barney Stinson, who raises her children, flirts with her neighbor, burns through flings and pals around with her girlfriends. Far more entertaining than any season of Friends, this looks to be the start of a promising new career for Cox. Extras in the set include bloopers, deleted scenes and a making-of featurette.
Article continues below advertisement
THE PHILMGUY REVIEWS: SCOTT PILGRIM VS THE WORLD
Date Night — NBC stars Tina Fey and Steve Carell make the leap together for a surprisingly funny action comedy, featuring the duo as a hapless married couple whom crime lords mistake for people who pulled one over on them. Carell's aloof charm and Fey's dry wit add some spark to what could have been a forgettable endeavor. The Blu-ray is loaded with a digital copy, deleted and extended scenes, director commentary and several other extras.
Wolverine and the X-Men: Final Crisis Trilogy – Lionsgate continues marching out an excellent series of Marvel animatiom DVDs, and this three-part series finale of Wolverine and the X-Men is among the strongest of the bunch. Wolvie and his fellow mutants engage in a time-traveling battle against a host of villains, including Master Mold and Magneto. The series creators provide an illuminating commentary track.
Article continues below advertisement
THE PHILMGUY'S DVD REVIEW: DIARY OF A WIMPY KID; NATIONAL LAMPOON'S VACATION
Sorority Wars – A no-name cast populates this weak, formulaic direct-to-DVD title that would seem corny even if it debuted on Lifetime. Lucy Hale plays a freshman who bucks family tradition by ignoring the snobby sorority house for its laid back rival, then rallies the underdogs to compete in a talent show. The movie is utterly forgettable, although it does pack a couple of show-stopping dance routines in the finale.
Temple Grandin – Claire Danes has always been an astounding talent, and this HBO movie gives her the chance to display her range, looking nothing like herself as she plays the famous autistic woman who overcame naysayers to become a respected scientist. The DVD is light on extras but worth a look for Danes's stunning performance.
THE PHILMGUY REVIEWS: THE OTHER GUYS
Ugly Betty: Season 4 – The fashion-centric dramedy series burned bright in its early years before fading into obscurity, but this final season recaptures much of the show's early spark, coming full circle as the titular protagonist, a fish-out-of water fashion magazine editor (America Ferrera) gains a taste and establishes herself in the cut-throat world. Deleted scenes, bloopers and commentary tracks round out the package.
Article continues below advertisement
THE PHILMGUY'S DVD REVIEW: THE BREAKFAST CLUB BLU-RAY; KICK-ASS
Dexter: The Complete Fourth Season – Michael C. Hall sizzles as a detective/serial killer who's searching for his soul. The fast-paced Showtime drama loses no steam in its fourth go-round, which pits Dexter, who channels his murderous impulses toward irredeemable criminals, pitted against a remorseless murderer played by John Lithgow. Dexter juggles his new family life amid his quest to take down the enemy. The Blu-ray includes some extra interviews you won't find on the DVD.
Phil Villarreal's humorous money-saving book, Secrets of a Stingy Scoundrel, is available on Amazon.