NEWS
The PhilmGuy's DVD Review: 'Mad Men' Season 5, Starring Jon Hamm and January Jones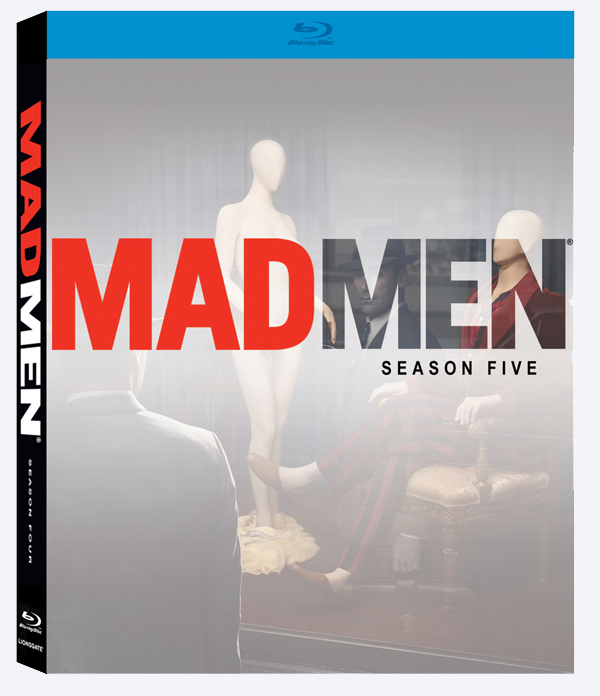 The Great Mouse Detective: Special Edition Blu-ray — You probably only know about the under-the-radar 1986 Disney gem if you watched it and adored it as a kid. The Sherlock Holmes-parodying mystery yarn gets much more of a boost than most films do on Blu-ray, with the format adding a ton of detail and depth of color than what you might remember on old VHS or Disney Channel showings. Vincent Price leads the voice cast. The Blu-ray/digital copy combo includes a making-of featurette, a sing-along song and a look at the character's methods of deduction.
Article continues below advertisement
It's Always Sunny in Philadelphia: Season 7 — My favorite sitcom had something of a down year in its seventh outing, but still was consistently funny enough to fight off all challengers for the top spot. Glenn Howerton, Charlie Day, Kaitlin Olson, Danny DeVito and Rob McElhenney play a delusional, mildly sociopathic band of frenemies who run a Philly dive bar and look to exploit others, and each other, at every opportunity. If you've never seen the show, check out its high points in season three and four before watching this. Extras in the set include commentary on the episode that mocks Jersey Shore, a bloopy reel, a tour of Philadelphia led by a side character, and commentary on three episodes.
OK!'S PHILMGUY REVIEWS THE DVD OF SNOW WHITE AND THE HUNTSMAN STARRING CHARLIZE THERON AND KRISTEN STEWART
The League: Season 3 — After two brilliant seasons, the fantasy football-themed comedy tanks in the third outing, teetering on the edge of getting me to delete it from my DVR. I'm keeping it on for now, but willing to give it the same fate as Cougar Town and Once Upon a Time if it doesn't shape up. Season three shows occasionally flashes of the irreverence that made it shine so brightly in its first two seasons, but most often seems lost and sluggish. Extras in the set include deleted scenes, a bunch of extended episodes and a couple unfunny featurettes.
Article continues below advertisement
A League of Their Own Blu-ray — The 1992 drama popularized the previously little-remembered World War II era All-American Girls Baseball League. Tom Hanks plays the cranky manager, while Madonna, Geena Davis, Lori Petty and Penny Marshall play the field. Loads of laughs and memorable lines, such as "There's no crying in baseball" abound in the joyful film, which is timeless due to its intense period detail. Deleted scenes, cast commentary and Madonna's tear-jerking "This Used to Be My Playground" video are included.
OK!'S PHILMGUY REVIEWS COSMOPOLIS STARRING ROBERT PATTINSON
Looney Tunes Platinum Collection Volume 2 — A roundup of 50 shorts featuring Bugs Bunny, Daffy Duck, Yosemite Sam and the rest of the gang make their Blu-ray debut. Even though there's a bit of a B-list feel to the material, because Volume 1 of the collection got the cream of the crop, there's still plenty to enjoy here, including memorable episodes such as Rabbit Seasoning, Rocket-Bye Baby and Birdy and the Beast. A bonus disc includes commentaries from animation historians, featurettes that explore Looney Tunes history and "lost" World War II-themed cartoons.
Article continues below advertisement
Mad Men: Season 5 — My favorite season yet of AMC's 1960s ad man drama finds lothario executive Don Draper (Jon Hamm) being pulled in several different directions. He deals with a renewed connection with his ex wife (January Jones), struggles to set boundaries with his new wife (Jessica Paré) and deals with constant ethical challenges at his new young company as it scraps its way to the top. Mesmerizing throughout, the season more than makes up for a somewhat water-treading fourth season. Cast and crew commentaries and making-of featurettes lead the extras.
Madagascar 3: Europe's Most Wanted — Ben Stiller, Jada Pinkett Smith, Chris Rock, Sacha Baron Cohen, David Schwimmer and a ton of others do time as voice actors in this kid-pleasing, adult-boring animated escapade. Like the previous two movies in the series, it appeals to the lowest common denominator, content to wallow in mediocrity while never letting its audience get bored. The combo pack includes 3D and 2D Blu-ray versions, as well as DVD and digital copies. Extras include filmmaker commentary, a lame game you play with a remote and deleted scenes. Bizarrely, the disc also comes with a kid-sized rainbow-hair wig.
Article continues below advertisement
Moonrise Kingdom — Writer/director Wes Anderson, with a hand from co-writer Roman Coppola, tell an elegant, bittersweet tale of a pair of emotionally troubled 12-year-old pen pals (Jared Gilman and Kara Hayward) who run off together in the Northeastern woods in the summer of 1965. The kids are phenomenal in their roles, as are Edward Norton as the boy's dorky scoutmaster, Bill Murray and Frances McDormand as the girl's litigious parents and Bruce Willis as the conflicted local sheriff. With relentless intensity and just the right touches of nostalgia and humor, the movie pokes fun at social ills, all with Anderson's trademark snark and visual flair. The Blu-ray/DVD/digital copy combo includes making-of featurettes that focus on Murray and the made-up island featured in the film.
Prometheus — Ridley Scott's prequel to the Alien series turned off some fans with its convoluted story and hole-filled plot, but I recommend the movie for fans of the series. It keeps the action flowing, provides insight as to how the alien menace evolved, and boasts some fascinating performances from Noomi Rapace, Guy Pearce and Charlize Theron. I'd rank it as the third best movie in the series, after the first two. It's certainly better than that Alien vs. Predator nonsense. The Blu-ray/DVD/digital copy includes commentary from Scott and other contributing filmmakers, a few deleted and alternate scenes, screen tests and loads of making-of footage.
Article continues below advertisement
The Raven — John Cusack is an excellent choice to play the famed 19th century horror/suspense writer, but he deserves far better than this CSI-style movie, in which Poe investigates a series of murders based on the author's work. References abound, which will no doubt please Poe's fans, but the drama is clunky and slow, with so-called mysteries that are either obtuse or painfully obvious. The Blu-ray/DVD/digital copy combo includes deleted and extended scenes and a metric ton of featurettes that delve into the background of the barely watchable movie.
That's My Boy — Adam Sandler's funniest film in more than a decade finds him as a rough-hewn former child tabloid celebrity, famous for impregnating his teacher at age 13, who tries to reconnect with his successful, upstanding son (Andy Samberg), who is about to get married to a woman named Jamie (Leighton Meester). Sandler is in top form as a man locked in eternal adolescence, and Samberg is excellent as a straight man. Vanilla Ice also turns in some solid, self-deprecating work, playing himself. The Blu-ray/digital copy combo includes deleted scenes, a gag reel and a few brief featurettes.