NEWS
The PhilmGuy's DVD Review: 'Marvel's The Avengers' starring Robert Downey Jr., Chris Hemsworth, Scarlett Johansson and Chris Evans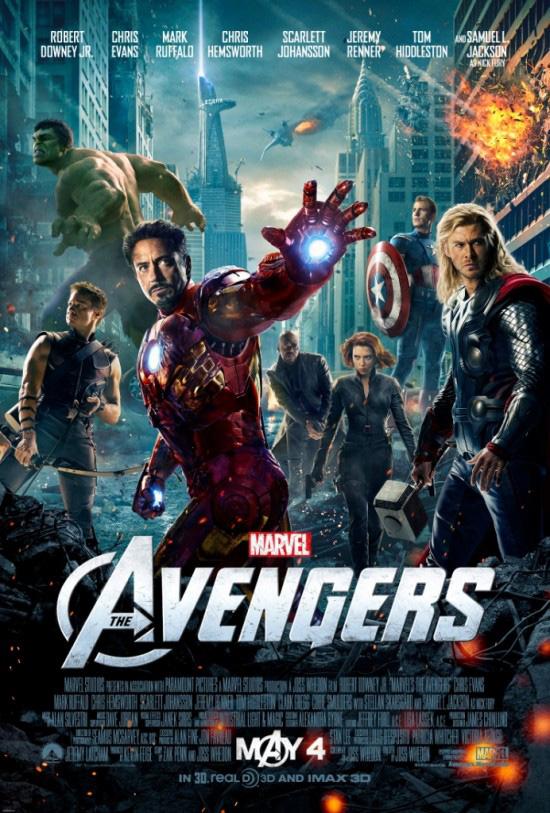 Batman: The Dark Knight Returns, Part 1 — Frank Miller's beloved 1986 comic book miniseries gets a loving and faithful animated adaptation. The plot finds Bruce Wayne as a 55-year-old who has long since given up his vigilante antics but leaps back into the fray because he's disgusted with the criminal cesspool Gotham has become. A social commentary on heroism amid social ills masked as an action movie, the film serves as something of a sequel to Christopher Nolan's live-action trilogy. The Blu-ray/DVD/digital copy combo includes a digital comic of the source material, a featurette on the female Robin character and a preview of The Dark Knight Returns, Part 2.
Article continues below advertisement
The Best Exotic Marigold Hotel — The incomparable Judi Dench turns in another sparkplug, movie-carrying performance in this droll British comedy. Dench, Tom Wilkinson, Maggie Smith and Bill Nighy star as retirees who try to stretch their fixed incomes by living in a run-down Indian hotel. Dev Patel plays the hotel's relentlessly upbeat manager, who is determined to keep the ramshackle operation afloat, convincing his guests that they're staying in high-class accommodations. The seniors eventually come around, opening themselves up not only to India, but new possibilities of passion and excitement in their golden years. Several background featurettes show behind the scenes footage and closer looks at locations used.
OK!'S PHILMGUY REVIEWS THE DVD OF SNOW WHITE AND THE HUNTSMAN STARRING CHARLIZE THERON AND KRISTEN STEWART
Damsels in Distress — Imagine Heathers set at a pompous liberal arts college and you're on the right track. Greta Gerwig headlines a cast that includes Aubrey Plaza, Adam Brody and Analeigh Tipton. Gerwig plays a snotty, verbose head of a clique that purports to help depressed students while subtly mocking their plights. Writer/director Whit Stillman cranks the pretentious dialogue up to unfathomable levels, and the verbosity adds nicely to the dark comedy's sassy self-awareness as it mocks college film cliches. Deleted scenes, commentary with Stillman and a behind-the-scenes featurette round out the disc.
Article continues below advertisement
Delicacy — In this French-language romance, Audrey Tautou's performance is the polar opposite of her peppy, career-making turn in her breakout hit, Amelie. She plays a stressed-out widow who fends off sexual advances from her creepy boss and raises eyebrows by starting an affair with a nebbish goofball. The sibling filmmaking team of David and Stephane Foenkinos show a deft touch for unraveling the mysteries of the heart with the methodically paced but entrancing film. Extras include an interview with Tautou and a making-of featurette.
Ed Wood Blu-ray — The 1994 Tim Burton/Johnny Depp team-up tackles the cross-dressing shlockmeister mid-20th century director, who made such unintentional comedies as Plan 9 from Outer Space. Depp captures Wood's oblivious exuberance in the funny biopic, which looks gorgeous in black and white, especially in HD. Sarah Jessica Parker and Patricia Arquette help Depp out with supporting roles. Deleted scenes, making-of featurettes and cast and crew commentary fill out the disc.
Article continues below advertisement
OK!'S PHILMGUY REVIEWS COSMOPOLIS STARRING ROBERT PATTINSON
Marvel's The Avengers — The mega-super-ultra-blockbuster, which combines the Hulk, Iron Man, Captain America and Thor franchises into an explosive orgy of comic book glee, is one of the better superhero movies in existence. Director Joss Whedon corrals the charisma of Robert Downey Jr., Chris Evans, Mark Ruffalo, Chris Hemsworth, Jeremy Renner, Samuel L. Jackson and Scarlett Johansson, as well as a nonstop series of eyeball-melting special effects, and somehow manages to also tell a coherent, emotion-packed story. The Blu-ray/DVD combo, disappointingly lacking a digital copy, includes a gag reel, deleted scenes, Whedon's commentary and a look at the effects.
Portlandia: Season 2 — IFC's rapidfire sketch comedy pokes fun at the bohemian, hyper-politically correct counterculture of Portland, Oregon. Carrie Brownstein and Fred Armisen lead the way, playing recurring characters, and several guest stars pop in, including Eddie Vedder, Jack McBreyer, Kristen Wiig, Andy Samberg, Jeff Goldblum and Amber Tamblyn. The series loses a bit of steam from its uproarious first season, which you can catch on Netflix, but still packs plenty of laughs. Commentaries, behind-the-scenes footage and previously unaired scenes bulk up the two-disc Blu-ray package.
Article continues below advertisement
Resident Evil: Damnation — The CGI cash-in on the video game series' popularity often plays like one long, lame cutscene that you're not allowed to skip through to get to some game action you can control. On the plus side, fan service abounds, with key characters from throughout the series popping up to say hi. Also, it's heartening to see a Resident Evil film that sticks to the games' canon without devolving to the silliness of the live-action Resident Evil movies. The Blu-ray/digital copy combo includes a gag reel, concept art and a pair of featurettes.
San Francisco 49ers: Team of the '80s — I throw this one in here because it profiles the team I lived and died by as a boy. The NFL Films doc captures the Niners' rise to glory on the backs of coach Bill Walsh, quarterback Joe Montana and a stable of receivers led by Jerry Rice. Inspiring and blissfully nostalgic, the incredible game footage and mix of retrospective and vintage interviews brings the era back to life. There's also a 1970s Pittsburgh Steelers doc on the market, for those who adore the black and yellow.
COMING SOON! Want To Keep Up On All The Celebrity News? Sign Up For Our Newsletter HERE!