NEWS
The PhilmGuy's DVD Review: 'The Mechanic'; 'The Other Woman'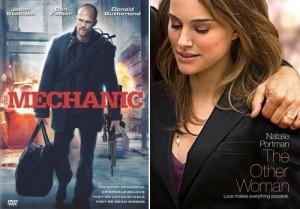 The Mechanic — Continuing to play the same stoic, determined action hero archetype in each movie, Jason Statham stars in a remake of a 1972 Charles Bronson flick as an assassin paid to make deaths look like accidents. He tangles with his mentor (Donald Sutherland) and begins an uneasy partnership with the man's son (Ben Foster). There's nothing special about the film, which may as well be The Transporter 18, but it's decent enough in its own cookie cutter-like way. Deleted scenes and a making-of featurette lead a weak slate of extras.
Article continues below advertisement
The Rite — Anthony Hopkins is in full-on freak-out mode in this wannabe The Exorcist, playing a renowned exorcist who increasingly seems like he may be possessed himself. Colin O'Donoghue is a young priest in training who follows him along, becoming entangled in his horror. More silly than scary, the film is an entertaining romp, thanks to Hopkins's willingness to constantly ham it up. The Blu-ray includes a digital copy, deleted scenes and a brief interview with a real-life exorcist fill out the extras.
THE PHILMGUY'S DVD REVIEW: BLUE VALENTINE; NO STRINGS ATTACHED
Thor: Tales of Asgard — Viewable as something as prequel to the movie, this animated film spotlights the Norse god's attempts to win the favor of his realm by proving himself as a leader in battle. Exciting action sequences manage to overcome cornball dialogue and abrupt character development. Two commentary tracks and a making-of doc make up the special features.
Article continues below advertisement
THE PHILMGUY REVIEWS: SOMETHING BORROWED STARRING KATE HUDSON & GINNIFER GOODWIN
The Twilight Zone: Season 4 — Some of the best TV series Blu-rays around are Twilight Zone adaptations, with the mind-beinding show's elegant black and white looking stark and handsome in HD. Memorable episodes from this 1963 season include He's Alive starring Dennis Hopper and Printer's Devil featuring Burgess Meredith. The extras are ample, with 13 commentary tracks, interviews with actors and a Saturday Night Live skit parodying the show.
THE PHILMGUY'S DVD REVIEW: THE GREEN HORNET; THE DILEMMA
The Other Woman — Miss Movie-Every-Month Natalie Portman plays a woman whose life is a swirl of downbeat drama. She's struggling to maintain her marriage with a wealthy lawyer (Scott Cohen) she stole from his bitter ex-wife (Lisa Kudrow), dealing with the death of her baby and a stepchild who doesn't like her. The downbeat, somber slice-of-life isn't for all tastes, but succeeds in a Lifetime movie sort of way. There are not extras worth mentioning on the disc.