NEWS
The PhilmGuy's DVD Review: 'Rock of Ages' Starring Tom Cruise, Russell Brand and Julianne Hough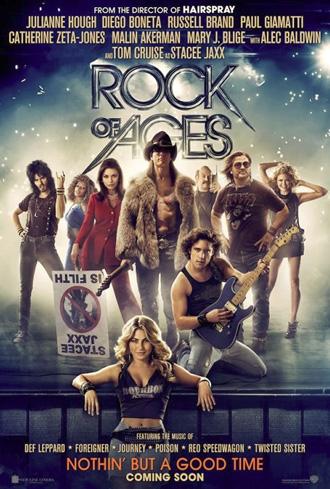 E.T. the Extra Terrestrial 30th Anniversary Edition Blu-ray — Steven Spielberg's folksy 1982 tale of friendship between a boy (Henry Thomas) and a young, lost alien who just wants to phone home still hits all the right emotional buttons. One of Spielberg's finest films, E.T. is an absolute charmer for kids and adults alike. It's also a pitch-perfect time capsule for the era, bringing joy to kids of the 1970s and 80s. Drew Barrymore is adorable as the Thomas character's younger sister, and the puppetry that created E.T. is remarkable. The Blu-ray/digital copy combo is jammed with special features, as it should be. There's a new Spielberg interview, deleted scenes that popped up in the 2002 remastered version that hit theaters, as well as exhausting making-of featurettes.
Article continues below advertisement
OK!'S PHILMGUY REVIEWS THE DVD OF SNOW WHITE AND THE HUNTSMAN STARRING CHARLIZE THERON AND KRISTEN STEWART
How I Met Your Mother: Season 7 — The update of the Friends concept, which taps the comedic genius of Neil Patrick Harris like no other project not named Harold and Kumar previously has, seems to be on a slightly downward slide as it creeps closer to the decade mark, but it's still good for some clever narrative concepts, entertaining pop culture references and witty banter. The formula and cast are solid enough to stop the series from falling on its face in the manner of Scrubs or The Office, and it's still one of TV's better comedies. Extras include commentary on several episodes, deleted scenes, a gag reel and a look at the guest stars.
New Girl: Season 1 — The breakout hit of last season features Zooey Deschanel as a lovelorn schoolteacher who moves in with a group of guys. Sort of a gender-swapped Three's Company updated for the modern era — only way, way funnier — the sitcom never disappoints, cranking out one grin-inducing episode after the next. The set includes commentary on a few episodes, audition tapes, alternate and deleted scenes scenes and a gag reel.
OK!'S PHILMGUY REVIEWS COSMOPOLIS STARRING ROBERT PATTINSON
Rock of Ages — A cavalcade of stars lines up for this Broadway musical adaptation, but the end result is a shoddy, stiff affair that reminded me of those awful music video skits that they throw together for late-season American Idol episodes. Tom Cruise, Russell Brand, Alec Baldwin, Catherine Zeta-Jones and Mary J. Blige are on the marquee, but the bulk of the story focuses on a pair of silver screen newbies (Julianne Hough and Diego Boneta) as they struggle to get their musical careers rolling. There's little plot in the movie, because every few minutes the cast bursts out into song and dance numbers that pay tribute to the likes of the most overplayed songs from Journey, Poison, Foreigner and Def Leppard. The only thing that kept me interested was the gawk factor of the glitzy production numbers. The Blu-ray/DVD/digital copy combo includes an extended edition of the movie, footage from the premiere, cast interviews about their thoughts on the 1980s and real-life stories that inspired the movie's power ballads.