NEWS
The PhilmGuy's DVD Review: 'The Roommate'; 'Gnomeo & Juliet'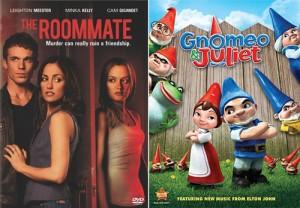 The Roommate — Leighton Meester ditches her party girl persona to play a psychopath who becomes obsessed with her college roomie (Minka Kelly), working behind the scenes to cut everyone out of her life and take control of her. If you've seen Single White Female you've seen this movie, but style and strong performances, especially from Meester, make the movie worthwhile. A making-of doc, filmmaker commentary and deleted scenes make up the extras.
Article continues below advertisement
Childrens Hospital Seasons 1 and 2 — Rob Corddry masterminds this blistering satire of Grey's Anatomy, mercilessly mocking its melodrama and self-serious narration. Corddry is the series creator as well as the leader of a surprisingly star-studded cast, which includes Megan Mullally, Lake Bell, Henry Winkler and Malin Ackerman. Deleted scenes, a music video and commentary are included.
The Firm Blu-ray — Due out Sunday and available only at Best Buy for now, this 1993 legal thriller starring vintage-form Tom Cruise as a hotshot lawyer who is recruited to a nefarious firm in Memphis. Once he starts work, he discovers his too-good-to-be-true career choice is actually a rabbit hole of horrors that puts his life at risk. The film is still an entertaining lark, but the barebones special features are a disappointment.
Article continues below advertisement
The Hustler Blu-ray — Paul Newman plays pool shark Fast Eddie Felson, who risks everything he's got to prove his skill and top Jackie Gleason as Minnesota Fats in this memorable 1961 drama. Packaged as a commemorative book, the disc includes Newman's commentary, documentaries on Newman, Gleason and Walter Tevis, on whose novel the film was based.
THE PHILMGUY'S DVD REVIEW: BLUE VALENTINE; NO STRINGS ATTACHED
I Am Number Four — A teen alien and his guardian, who try to blend in among the humans, engage in a convoluted game of cat and mouse with an opposing group of aliens who want them eliminated. As you watch the lifeless nonsense unfold, you just feel bad for Glee's Dianna Agron and Timothy Olyphant for having allowed themselves to get stuck in the morass. The Blu-ray/DVD/digital copy combo includes a featurette, deleted scenes and bloopers.
Article continues below advertisement
Melissa and Joey: Season 1, Part 1 — Former teen sensations Melissa Joan Hart and Joey Lawrence pair in this awkward, dullsville Who's the Boss? ripoff. It might have been more interesting to have corralled the stars into a The Surreal Life-like reality show, but the show is something of a nostalgic Where Are They Now? for longtime fans of the actors. A blooper real and scattered featurettes make up the extras.
THE PHILMGUY REVIEWS: SOMETHING BORROWED STARRING KATE HUDSON & GINNIFER GOODWIN
Papillon — Steve McQueen shows off formidable range in perhaps his most meaty role, in this 1973 true-life drama based on Henri Charriere, a small-town criminal falsely convicted of murder, who endures a lifelong struggle to break out of prisons, only to be captured again. Dustin Hoffman plays his sidekick. Several in-depth featurettes tell the making-of story, and the commemorative booklet in the packaging brims with fascinating trivia.
Article continues below advertisement
Platoon Blu-ray — Oliver Stone's brilliant 1986 take on the Vietnam War rounds up Charlie Sheen, Willem Dafoe and Tom Berenger for a bleak examination of the horrors of war, its tests of loyalty and brotherhood and the moral grey area of military politics. The Blu-ray/DVD combo abounds with extras, including Stone's commentary, making-of docs and deleted scenes.
Public Speaking — Martin Scorsese directs a bizarrely straightforward documentary on acerbic writer Fran Lebowitz, who holds court in a series of interviews in which she focuses on her life, politics and philosophies. Extras include Scorsese's conversations with Lebowitz and more of her monologues.
Some Like It Hot Blu-ray — Tony Curtis and Jack Lemmon ham it up in this 1959 caper, hailed by many as one of history's funniest films. While the shock value of men dressed in drag to impress a lady (played by Marilyn Monroe) no longer has much shock value, the film remains an iconic must-see, if only out of respect for the great director Billy Wilder. The only notable extra is a commentary.
Article continues below advertisement
The Terminator Blu-ray — Pre-adultery scandal Arnold Schwarzenegger establishes his most memorable role, as a time-traveling, death-dealing cyborg, in this 1984 apocalyptic vision directed with verve by a not-yet-entirely-consumed-by-ego James Cameron. Despite primitive special effects and some cheeseball plotting, this remains one of history's greatest action flicks. Deleted scenes, a retrospective documentary and interviews with Schwarzenegger and Cameron are included, but the extras, which lack some from previous DVD releases, are far from definitive.
The Usual Suspects Blu-ray -- Before he devoted his career to making decreasingly watchable comic book movies, director Bryan Singer was a clever filmmaker with a distinct voice, and he shows his peak talents in this 1995 crime mystery, featuring Kevin Spacey in one of his most memorable roles. The disc has no extras.
Gnomeo & Juliet — Lawn ornaments come to creepy, somewhat-entertaining life in this silly slapstick affair, packed with double the U.S. Recommended Daily Allowance of Elton John music. James McAvoy and Emily Blunt lend their voices to the star-crossed porcelain lovers, but don't manage to inject much charm into the dry, by-the-numbers story. The Blu-ray/DVD combo includes deleted scenes and a Crocodile Rock video.