NEWS
The PhilmGuy's DVD Review: 'Sons of Anarchy,' 'Vampire Diaries'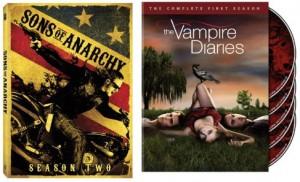 Sons of Anarchy: Season 2 – FX steps into the ranks of HBO, Showtime and AMC with this exhilarating motorcycle gang saga, which plays like The Sopranos on wheels. Charlie Hunnam plays Jax, a second-generation gangster torn between duties to the old ways of biker brotherhood, the need to modernize the organization in order to survive and the needs of his young family. Ron Perlman glowers as the gang's gruff patriarch, Jax's gruff father figure, and Katey Sagal steals every scene as Jax's ebullient biker mama mother. Season 2 keeps the series' momentum at full throttle, with the action looking stunning on Blu-ray, and the set boasts an incisive featurette that examines the moral code of the gang.
Article continues below advertisement
THE PHILMGUY REVIEWS: GOING THE DISTANCE
The Evil Dead Blu-ray – Sam Raimi's 1981 film is a putrid mess, but worth a look for fans of schlock horror. A young Bruce Campbell highlights a cast of no-names as a group of friends who make an ill-advised trip to the woods, where they're assaulted by demonic monstrosities rendered by pathetic yet moderately creative special effects. High definition does the ugly movie no favors, but the new commentary that includes Raimi and Campbell is priceless.
Harry Brown – Michael Caine may be 77 years old, but he can still kick a fair amount of ass. He stars in this Death Wish-like thriller, playing a retiree who takes on a gang of hoodlums who harass his friend. It's ludicrous to watch Caine beat up on people less than a third of his age, but also strangely exhilarating. The Blu-ray has deleted scenes and a commentary track with Caine and the filmmakers.
Article continues below advertisement
THE PHILMGUY'S DVD REVIEW: LOST: THE COMPLETE COLLECTION; GOSSIP GIRL
Marmaduke – The giant dog proves to be a better actor than his live-action co-stars in this bottom-of-the-scrap-heap dud, based on the long-past-its-prime comic strip. George Lopez and Owen Wilson cash paychecks to voice characters in this barely-watchable mess. The Blu-ray includes a slew of inane extras and deleted scenes.
The Vampire Diaries: Season 1 – The CW's answer to Twilight and True Blood is probably tolerable only to those who hail the likes of One Tree Hill and the 90210 reboot as examples of good TV. Set in a small town ignited by the presence of good and evil vampire brothers, the show is bogged down by stilted dialogue and cornball plotting. The coolest extra feature is a download of an L.J. Smith audiobook on which the series is based.
Phil Villarreal's humorous money-saving book, Secrets of a Stingy Scoundrel, is available on Amazon.