NEWS
The PhilmGuy's DVD Review: 'The Town'; 'The Other Guys'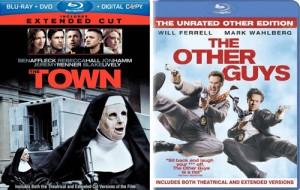 The Town – Releasing on Friday, Ben Affleck's best directorial effort to date stars himself as a Boston bank robber with a heart of gold who ends up falling for a bank teller (Rebecca Hall) who is also the one witness who can put him and his partners in crime behind bars.
Gritty and well-paced, the movie is considered by many to be a solid bet for a best picture nomination. Jeremy Renner, Chris Cooper and Blake Lively turn in stunning supporting performances in a movie you won't soon forget. The Blu-ray/DVD/digital copy combo offers Affleck's commentary, and an intense look at the hardscrabble part of Boston in which the movie is set.
Article continues below advertisement
THE PHILMGUY REVIEWS: THE FIGHTER
Cyrus – This bittersweet romantic comedy is a delicate dance between three wounded souls: A skittish, unlucky-in-love woman (Marisa Tomei), her hyper-clingy son (Jonah Hill) and her unconfident would-be beau (John C. Reilly), whom her son despises. Tomei and Reilly are proven veterans, but it's Hill who truly rises to the occasion in his most complex role to date. He undermines the budding relationship at every turn, leading to rising tension between his mother and her boyfriend that explodes into a wince-inducing finale.
Despicable Me – An underwhelming animated affair starring the voice of Steve Carell as a Dr. Evil-like supervillain, the movie squanders its promise and tests your patience. Carell's character, Gru, shows his lighter side by reluctantly caring for a trio of orphans who stumble into his life. Stealing the show are Gru's adorable little yellow minions, who speak in squeaks and gibberish and gleefully hurl themselves into harm's way to please their master. The movie comes in a knockout Blu-ray/DVD/digital copy combo includes three short films that are more entertaining than the film itself, behind-the-scenes peeks and a collection of min-games you play with your remote.
Article continues below advertisement
THE PHILMGUY'S DVD REVIEW: INCEPTION; SHREK
Exit Through the Gift Shop – This much-acclaimed documentary about an amateur filmmaker who turns himself into a street art sensation is a strong contender for a best documentary Oscar. It starts off slowly but builds momentum steadily as it takes a couple unexpected twists, becoming a stinging commentary on the vicious, hypocritical art scene. Extras include, bizarrely, a set of stickers, as well as background featurettes that are tough to sit through but may prove illuminating for those willing to give them a look.
The Legend of the Guardians: The Owls of Ga'Hoole – Going on sale Friday, director Zack Snyder's freaky, slow-moving tale about warring bands of animated owls can hardly get off the ground. Helen Mirren, Geoffrey Rush and Hugo Weaving fill out the voice cast, but there's not much interesting for them to say. Eye-catching visuals own the day, and those who own 3D TVs are in luck because this is one of the few films to have come along that supports their overpriced devices. The Blu-ray/DVD/digital copy combo is well-featherd with extras, such as a look inside the world of owls, a music video and artwork galleries.
Article continues below advertisement
THE PHILMGUY'S DVD REVIEW: ECLIPSE; GOING THE DISTANCE
Mother and Child – An enthralling mid-year arthouse hit that's disappointingly not picking up much awards season heat, Mother and Child tells an interlocking tale of three women (Annette Bening, Naomi Watts and Kerry Washington) whose lives are troubled and redeemed by mother-daughter relationships. Watts is particularly sharp as a career-driven dynamo who fends off intimacy at every turn, stepping into an ill-advised affair with her boss (Samuel L. Jackson). Director Rodrigo Garcia provides commentary, and there are also interviews with the cast and deleted scenes.
Nanny McPhee Returns – Emma Thompson reprises her role as a Mary Poppins-like caregiver who starts off her movies super-ugly. As Nanny McPhee works her disciplinary magic on households overrun with disobedient rugrats, she loses her blemishes one-by-one until she begins to look like Emma Thompson once again. A slumming Maggie Gyllenhaal plays a harried single mother who calls on McPhee for help. The movie is harmless fun, but if you've seen one Nanny McPhee film, you've seen 'em both. Extras include deleted scenes, director commentary and behind-the-scenes looks at the special effects.
THE PHILMGUY REVIEWS: BLACK SWAN
The Other Guys – The action comedy was the unexpected gem of the summer, pairing Mark Wahlberg and Will Ferrell as mismatched cop partners who step in on an investigation after the department's star officers are taken out of commission. Its trailers did the movie no favors, curiously failing to give a sampling of what the movie really is – a quotable, non-stop laugh riot from wire to wire. More than 100 minutes of extras include the unrated and theatrical versions of the movie, deleted and extended scenes and a riotous music video of the song "Pimps Don't Cry."