NEWS
PHOTOS: Jen Aniston & Gerard Butler Flirt for the Cameras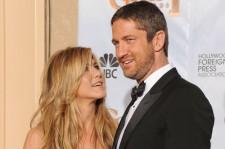 It's a good thing Angelina Jolie and Brad Pitt decided to skip Sunday night's Golden Globes — because Jennifer Aniston was looking mighty fine in a sexy black dress with slits that showed off her fit legs. Backstage, Jen and her The Bounty co-star Gerard Butler — or as host Ricky Gervais called them, "Rachel from Friends and that guy from 300" — hammed it up for the cameras in the press room, sometimes pretty convincingly!
Article continues below advertisement
As reported in the current issue of OK! — on sale everywhere now — Angie and Brad had ditched out on the annual awards spectacle at the last minute claiming it was because neither of them had been nominated. But as an inside source says, "Angie knows everyone would be looking for any interaction with Jen... As strong as she may look, she's actually very scared of Jen."
FOR THE COMPLETE STORY ON THE WORSENING FEUD BETWEEN ANGELINA JOLIE AND JEN ANISTON, PICK UP THE CURRENT ISSUE OF OK! — ON SALE EVERYWHERE NOW!
Also in this issue:
• Everything you need to know about Carrie Underwood's fairytale wedding!
• New moms Kendra Wilkinson and Kourtney Kardashian tell all about their romantic dates, hot sex lives and how their men are handling the big change.
• Tag along with Jersey Shore's Ronnie and Sammi on their romantic night out in NYC!
...and all the latest news, fashion and photos!