NEWS
PHOTOS: Kelly Osbourne Kicks the Dancing Blues on Her Birthday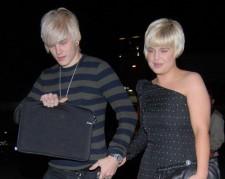 Despite the Dancing with the Stars judges questioning her confidence on the dance floor, Kelly Osbourne seemed to be in high spirits as she and fiancé Luke Worrall stepped out to celebrate her 25th birthday in Hollywood last night with some of her DWTS castmates. "I'm sick and f-ing tired of this show talking about my confidence," Kelly told OK! after the live broadcast.
"I don't want it to get in the way anymore. I'm sick of it. I don't want it to be another talking point on the show. It really bummed me out today," the birthday girl admitted.
Article continues below advertisement
To keep her mind off the anxiety of this week's double elimination on DWTS, Kelly celebrated her birthday a day early on Monday night with her new dancing family.
"I'm having a thing tonight because tomorrow, if we make it through elimination — which would be devastating to be voted off on your birthday, so fingers crossed — then we're going to be rehearsing 'til 11 p.m. tomorrow," explained the trimmed-down blonde, who is featured in an exclusive photoshoot and interview in the current OK!.