NEWS
Pia Toscano Fell Victim to "The Daughtry Effect"? Twitterverse Says Yes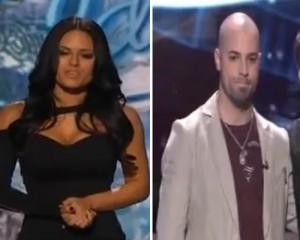 The country was left in shock when Pia Toscano was sent packing last night on American Idol , but it's America who is most likely to blame for her elimination. Pia's premature departure from the hit Fox singing competition is being compared to another shocking elimination from season 5 — rocker Chris Daughtry. Did she fall victim to the "Daughtry Effect"?
According to the Twitterverse, that is exactly what happened to Pia.
Article continues below advertisement
Pia was always praised as perfect from the beginning and delivered such strong, powerhouse performances that America forgot to vote!
"What the crap!!?? I thought Pia was THE best singer on the show this year!" Chris Tweeted last night, followed by, "Oh cool! #Daughtry is trending:) Yay us"
But we all know how it ended for Chris — with a record deal and a Grammy-nominated band! And even though Pia didn't make it all away to the top four like Chris, we know a record deal is already in the making and she is on her way to great things. Remember Jennifer Hudson everyone? There is life after Idol.
Do you think she fell victim to "The Daughtry Effect"? Watch both eliminations below and sound-off in the comments.
Chris Elimination:
Pia Elimination