NEWS
Stefano Langone Reacts to Pia Toscano's 'American Idol' Elimination: "It Wasn't Right"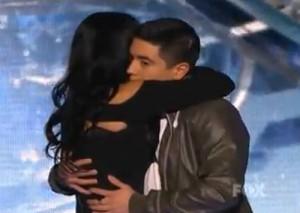 While the country was left stunned and in tears when Pia Toscano was revealed as the latest cast-off on American Idol last night, no one felt worse than her fellow bottom two pal Stefano Langone. Stefano is no stranger to the bottom three and he even looked like he knew it would be him voted off. But when Pia's name was announced and the audience began to boo, Stefano was left baffled and hurt.
The now Top 8 contestant took to his Twitter to open up on how he was feeling, starting with "I don't even know what to say right now..."
Article continues below advertisement
With the audience booing, Jennifer Lopez crying and Randy Jackson on the verge of falling off his chair, it must have been an extremely difficult moment for Stefano.
OK! VIDEO: WATCH IGGY POP'S "WILD" PERFORMANCE ON AMERICAN IDOL
Watch the shocking elimination below. Do you feel bad for Stefano? Do you think he will leave next week? Share your thoughts in the comments.